iLuv Portable Tablet-Style Multimedia Player
iLuv Portable Tablet-Style Multimedia Player
Filed under: Portables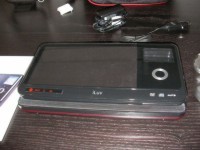 For a remarkably low $199, you will soon be able to purchase a really cool portable iPod/DVD player from iLuv. A sleek design, a big screen, and a protected slot for your iPod add up to great value.
The i1155 is the perfect portable device to watch your DVDs or iPod with video while traveling, featuring an 8.4" widescreen playback and slim design. Charging as it plays, your iPod with video fits securely into an integrated dock located in the front of the player and can be controlled easily with the simple touch of your finger without opening the device.
Also, through AV or S-Video output, you can even watch videos or view pictures on a TV screen from either the DVD or iPod with video players. It's also compatible with various DVD functions like multiple subtitles and angles, fast motion and zoom.
The i1155 should be available by the end of the first quarter in 2007. For more information please visit www.i-luv.com .