iLuv Noise-Canceling Headphones with Bluetooth
iLuv Noise-Canceling Headphones with Bluetooth
Filed under: Headphones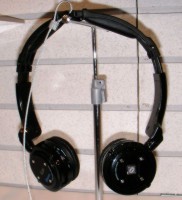 One of the cool products I saw today on the floor of the 2007 CES was iLuv's Bluetooth wireless i903 noise-canceling stereo headphones. The lightweight on-ear swivel design looks great and sounded pretty good.
The i903 frees you from the bondage of a wired environment using Bluetooth wireless technology. Not only that, but outside sounds that can be a distraction to pure music enjoyment or an annoyance during an important phone call virtually disappear, helping you focus on what you want to hear and not on what you have to hear.
This swivel-designed noise canceling headset has comfortable soft-cushioned ear pads, and with its mini-USB connection you can attach to most audio devices using the included mini USB to 3.5 mm cable. Plus, using the audio transmitter with Bluetooth wireless technology (included), the i903 essentially transforms an audio device not equipped with Bluetooth wireless technology into one with it. With nine hours of talking time and 8 hours of listening time, the i903 helps you enjoy walking and talking more than you did before.
The i903 carries a MSRP of $199.99 and will be available in February of 2007. For more information visit www.i-luv.com .