Hitachi's Hybrid Camcorders
Hitachi's Hybrid Camcorders
Filed under: Miscellaneous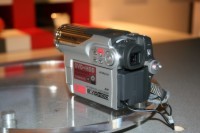 Hitachi unveiled a new generation of UltraVision camcorders that include the first two hybrid products capable of recording video directly to either formats. The DZH500A model, which records onto a wide array of DVD formats, including DVD-R, DVD-RW, DVD-RAM and DVD+RW, features a 30GB hard drive, 30X optical zoom, SD memory card slot, and will be available in April for about $800. The DZHS300A, available today at retailers nationwide for about $600, features an 8GB hard drive, 25X optical zoom and SD memory card slot.
Hitachi Hybrid Camcorders lets consumers shoot and capture many hours of home movie memories directly to the built-in hard drive without changing discs or tapes or running out of space. The critical last step to enjoying and sharing these memories however is to transfer those movies from the Hard Drive to DVD's, and the Hitachi Hybrid products are the only camcorders in the world that allow consumers to record to Hard Drive then transfer to DVD right in the camcorder with the push of a button.
Rounding out Hitachi's new camcorder line, the UltraVision DZGX5080A and UltraVision DZGX5020A DVD camcorders provide DVD-R, DVD-RW, DVD-RAM and DVD+RW format support along with a large 2.7-inch widescreen LCD in true 16:9 aspect ratio and a 30x optical zoom. The DZGX5080A, which adds USB 2.0 connectivity for Mac and PCs and an LED, will be available in March for about $450 while Hitachi's most affordable camcorder, the DZGX5020, will be available in February for about $350.
All new Hitachi models feature 1-Second Quick Start and a One Touch Finalize Button feature to easily accomplish that critical last step. Superior imaging is made possible with Hitachi's Cinema Res Advanced Image Processing with high resolution capture, an exclusive technology that uses the entire CCD to capture both video and still images before converting to DVD format, utilizing the camcorder's entire capacity to create a sharper, more detailed picture.
For more information, visit
http://www.hitachi.us
.