Hitachi 1080p Plasma Displays
Hitachi 1080p Plasma Displays
Filed under: Televisions & Displays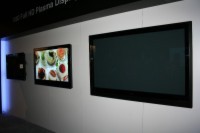 This February Hitachi is bringing the world's first 1,080 line 50-inch plasma HDTV for under $2,500 to American consumers. In addition to the 50-inch P50H401, Hitachi's 2007 H401 series includes the 42-inch (P42H401) and 55-inch (P55H401) models feature an all new black industrial design with subtle titanium gray trim, emphasizing the picture and de-emphasizing the frame. The models use discrete speaker venting below the screen to ensure high quality audio, yet maintain the widescreen appearance for a clean, modern look that compliments any living room.
All models include Hitachi's fourth generation 1080p PictureMaster IV video processor that analyzes and optimizes the picture with dynamic histogram processing and 16-bit clarity and new for 2007 MPEG noise reduction. All 2007 flat panel models include three 1080p-compatible HDMI inputs with SimplayHD certification so that consumers can have confidence that they will be able to display the latest digital content reliably.
New for 2007, Hitachi includes 3 picture setting memories and 3 timers for each input. Since every set top tuner and disc player is different, and lighting conditions vary from morning to daytime to nighttime, Hitachi offers 3 discrete picture settings memories for each input. The presets will allow the image to be customized according to source and room lighting conditions and can be customized to change automatically. The picture memories are designated as "Day," "Day Dynamic" and "Night."
Hitachi's 42-inch and 50-inch plasma models feature HD1080 technology - an excellent match for today's broadcasting standards. The resulting denser pixel structure allows for fine details to be displayed clearly.
Showcasing Hitachi's innovative WXGA plasma technology, the 55-inch models minimizes the visual grid pattern with a unique electrode structure that also increases light output for a brighter picture.
Hitachi's 50-inch P50H401 will be available in February for MSRP $2499.95. The 42-inch P42H401 and the 55-inch P55H401 will ship in April and July, respectively. Pricing for those models will be announced at introduction.
Also shipping in the first half of 2007 will be Hitachi's new CineForm T501 Series with 42-inch, 50-inch and 55-inch models. The T501 series includes all of the technologies and features of the H401 series while offering an all black design. Additional performance enhancements will include a high-contrast anti-reflective glass screen, an SD Card Photo Viewer to view digital photographs, a deluxe multi-function remote, a split screen capability and a swivel tabletop stand.
The P50T501 model will be available in February 2007, followed by the 42-inch model in April and the 55-inch model in July. While we would like to report on the picture quality, most of the units were receiving no content while they worked out a problem with their booth. For more information please contact
www.hitachi.com
.