Franklin Speaking Global Translator
Franklin Speaking Global Translator
Filed under: Portables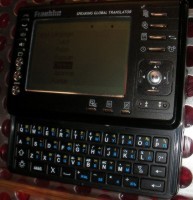 By far one of my favorite products at the 2007 CES show was Franklin's Speaking 12-Language Global Translator. About the size of a PDA, this handheld contains over 450,000 words and 12,000 phrases in twelve languages and features recorded human speech providing accurate and clear pronunciation of words and phrases in all twelve languages. This new model allows translations to and from English, Chinese, Korean, Japanese, Spanish, Italian, French, German, Dutch, Portuguese, Russian and Polish. Translations for Russian and all Asian languages are displayed in Romanized alphabet as well as native characters, enabling accurate pronunciation.
Having recently visited China, I think this will be a fantastic product for anyone who travels. There were many times on my trip, such as when I was trying to purchase tickets for the subway in Shanghai, that this would have come in very handy.
Franklin will begin to ship the Speaking 12-Language Global Translator in mid-February of 2007, with a suggested retail price of $229.