Crosley Songwriter CD Burner
Crosley Songwriter CD Burner
Filed under: HTiB/Mini Systems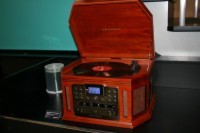 The Songwriter CD Burner allows your old vinyls to be recorded in a digital audio format for high quality sound on a smaller, more modern compact disc. The Songwriter also allows you to record from cassette to CD as well. However, if you still want to enjoy your albums old style, then Crosley's Songwriter offers a 3 speed turntable for your listening enjoyment. Features include:
CD Recorder Records Albums and Cassettes to CD
Supports CD-R/RW
Plays CDs
Programmable 20-track Memory
Repeat Function
3 Speed Belt Driven Turntable
Plays 33 1/3, 45 and 78 RPM Records
Digital AM/FM Radio
Side Mounted Cassette Deck
Built in EQ Presets
LCD Display
Front Mounted Auxiliary Input
Auxiliary Input
Auxiliary Output
Video Output
Color: Paprika
Suggested Retail: 399.95
For more information, please contact www.crosleyradio.com .