Case Logic Expands Product Line
Case Logic Expands Product Line
Filed under: Miscellaneous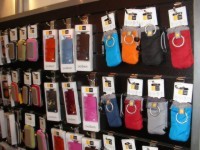 I'm guessing that if you are reading this, you now or at one time have owned a case for storing your CD's made by Case Logic. In fact, I would be willing to bet that my first CD case was a Case Logic product.
Case Logic showed an expanded line of products at the 2007 CES, including pockets and cases for iPod and MP3 players, digital cameras, mobile phones and PDAs. These products are great looking, come in a variety of styles, and are priced right. Many of the cases and pockets are priced less than $10 - a great value for very high quality products.
Also introduced at CES 2007 are the company's new lines of of messenger bags, backpacks and luggage. Again, these bags look great and are really high quality. If you are looking for laptop bag, you really need to check these out. These new products include padded laptop compartments and detachable USB drive cases. As with all Case Logic's products, the messenger bags and backpacks offer high-quality material and full-featured organizational panels with felt-lined pockets for electronics storage. Prices range from $39.99 - $59.99, and availability should begin around the second quarter of 2007.
Also new is a line of sleek, lightweight luggage. The cases feature durable, moisture-resistant materials, sturdy wheels, strong frames and dedicated organization compartments for CE products.
I was also very impressed with Case Logic's line of SLR camera cases. Ranging from compact cases to larger camera holsters, the DCB line of photo video cases features nylex interior lining to protect the camera from scratches as well as storage compartments. Since I have recently been looking for a new bag for my wife's upcoming birthday (shhh!), I can tell you that these bags offer excellent quality for half the cost of similar competing bags on the market.
For more information please visit www.caselogic.com .