Belkin TuneStage 2
Filed under: Portables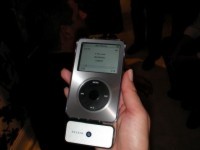 Among Belkin's offerings at this year's CES is the TuneStage 2, which provides a very slick way to play music from your iPod on your home stereo. The TuneStage 2 uses Bluetooth to turn your iPod into a wireless remote that is easily installed. Setup takes only minutes and requires no software or custom configuration. Just plug it in and enjoy your music.
TuneStage 2 stands apart from other wireless products by turning your iPod into the wireless remote. Now you can have complete control over all iPod functions in the palm of your hand. Effortlessly change playlists, search for artists or individual songs, and adjust volume-all through the iPod click wheel. TuneStage 2 takes you far beyond the limited forward/backward, volume up/down commands of other wireless products.
Featuring advanced Bluetooth v2.0 technology, TuneStage 2 provides enhanced audio quality, and improved rejection of interference. TuneStage 2 is fully backward-compatible with Bluetooth v1.2.
TuneStage 2 also functions as a charging dock for your iPod. A USB port is built into the receiver and the transmitter to allow charging your iPod without the need to remove the transmitter or stopping your music.
•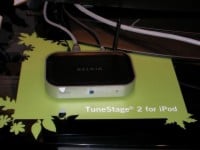 Features the latest BluetoothTM v2.0 technology for superior performance
• Requires no software for simple Plug-and-Play setup
• Provides complete visibility and access to all your iPod music
• Controls volume from the iPod click wheel
• Transmits from up to 33 ft. (10m) away, through furniture and walls
• Connects your home stereo to the Bluetooth receiver with included cable
• Requires no batteries, power comes from your iPod
•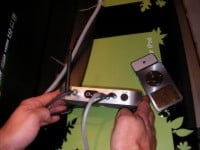 Provides up to 5 hours of playtime on a fully charged iPod
• Features iPod charging capability via USB, with included cable
The TuneStage 2 will ship in January 2007. For more information visit: www.belkin.com .