Vidikron Flat Panels
Filed under: Televisions & Displays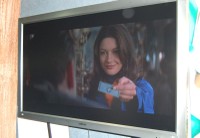 Vidikron Flat Panel Display
Vidikron announced three new high-performance HD flat-panel displays at CEDIA 2007, including the VL-52, the VL-57 and the VP-5000VHD.  Numerous custom installation-friendly features are standard, including comprehensive ISF calibration capabilities, a robust assortment of inputs, and full integration ability with today's latest and most advanced home automation systems.
The DView VL-52 (52-inch) and VL-57 (57-inch) offer premium features and performance for the LCD flat-panel home theater category. Both offer 1080p native resolution, state-of-the-art performance and generous feature sets. Vidikron's exclusive internal video processing offers unparalleled imagery, artifact-free scaling and pristine reproduction of both native film and native video formats. The models also include the complete Imaging Science Foundation (ISF) calibration suite to deliver the absolute best image possible under multiple viewing conditions. Custom-friendly capabilities include an RS-232 automation interface with discrete on/off, input selection and aspect ratio control on the remote control The VL-52 and VL-57 also include integrated audio systems that offer detachable two-way speaker systems and 10W RMS power per channel. Two HDMI inputs with HDCP provide cutting-edge connectivity, while VirtualWide mode converts 4:3 images to the displays' native 16:9 without compromising image integrity.

The PlasmaView VP-5000VHD 1080p plasma display monitor is the beneficiary of Vidikron's advanced engineering and design features. With a native resolution of 1920 x 1080, it delivers state-of-the-art performance for those who demand true high-definition capability. Its external VHD Controller/Processor includes Vidikron's exclusive Imagix video processing, which maintains a pure digital signal path from input to output, and provides a broad array of video input choices. For glitch-free custom installation, the VP-5000VHD includes IR and RS-232 capabilities with discrete input selection and power on/off. Multiple aspect ratio control is available with Vidikron's IntelliWide mode, which offers the ability to view standard video formats in widescreen without loss of image quality, while Vidikron's Dynamic Pixel Protection protects the panel from stationary image burn.

The VL-52 has an MSRP of $7,995 and is available now. The VL-57 has an MSRP of $12,995 and ships in October. The VP-5000VHD has an MSRP of $9,995, with an estimated November shipping date. Vidikron's VP-5000VHDa model is also available for optimal plasma performance in high altitudes.

For more information: www.vidikron.com.