Velodyne MicroVee Subwoofer
Velodyne MicroVee Subwoofer
Filed under: Loudspeakers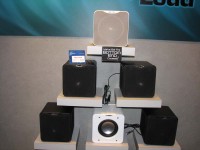 Velodyne MicroVee
Velodyne announced the availability of the MicroVee subwoofer at CEDIA. Designed to deliver clean, powerful bass, the MicroVee is the smallest subwoofer (9" cube) Velodyne has ever made and is ideal for home theater, personal audio or gaming applications.
The MicroVee's ribbed, extruded aluminum cabinet complements any room décor so as to please any interior decorator. The MicroVee is available in either a black anodized or iPodâ white finish.
The MicroVee sports a three-driver system. The active 6.5" driver incorporates an aluminum cone and dual-layer copper voice coil that assures linear travel as it handles the gigantic power delivered by the ERS amp. Two aluminum-cone passive 6.5" drivers augment the active driver and are tuned to deliver the maximum bass output for its size that is demanded by today's home theaters.
The MicroVee features the latest generation of Velodyne's patented Energy Recovery System (ERS) Class D amplifier, supplying 2000 watts of dynamic power to enable the MicroVee to deliver the impact of any special effect. With 1000 watts of continuous RMS power, the MicroVee is said to produce musical bass with incredible detail and definition.
The MicroVee is available immediately and has a suggested retail price of $999.
For more information visit www.velodyne.com.