SunBriteTV Model 4600HD
Filed under: Televisions & Displays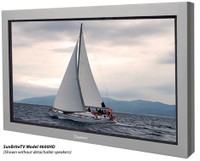 SunBriteTV Model 4600HD
SunBriteTV introduced their new Model 4600HD all-weather outdoor LCD television. The 4600HD is an all-weather outdoor LCD television that is designed for permanent outdoor residential and commercial installation. The corrosion-resistant, powder-coated aluminum enclosure protects the internal TV components from rain, dirt, insects and other outdoor elements.
Model 4600HD is designed with SunBriteTV's baffled and filtered quad-fan airflow system that quietly keeps the unit cool in temperatures up to 122ºdegrees F. In extremely cold climates, the internal thermostatically-controlled heater activates automatically when the TV's internal temperature dips to 32º F. The heater provides a 20º F. temperature rise, allowing the TV to safely remain outdoors in temperatures as low as -24º F.
SunBriteTV's innovative watertight cable entry system and cable pass-through design ensures quick and easy hook-up to the wide selection of video inputs, including HDMI, component, VGA, S-video, composite and RF.

The 46" LCD screen is HD-compatible and displays a super-bright 1366 x 768 pixel image with 1600:1 contrast ratio. The screen is protected by an anti-reflective, impact- and scratch-resistant window built into the enclosure. The operating controls are also sealed against rain and moisture. I don't know about anyone else, but a "sledge-hammer proof" model would be very helpful for those populated downtown installations as well.
SunBriteTV offers optional articulating wall mounts that allows for horizontal extension, lateral rotation, tilt and swivel functions. For additional backyard placement choices, a deck/planter pole mount is also available. The pole can be set in concrete, a planter, or bolted directly to a flat surface like a patio or pool deck. The pole and supporting flange are made from heavy-gauge steel and are zinc plated and powder-coated to eliminate corrosion. Pairing SunBriteTV with the articulating mount gives users virtually unlimited viewing options.

The standard accessories that ship with Model 4600HD are attachable speakers, a removable table stand, a water-resistant remote control with long-life lithium batteries, and a one-year, in-factory, parts and labor warranty with both models. .
Also presented at the show will be SunBriteTV's 32-inch Model 3210HD, and their 23" Model 2300HD. Both TV's are HD-compatible and sport the equivalent environmental feature-set as Model 4600HD.
Model 4600HD is now available with an MSRP of $4995. Model 3210HD has an MSRP of $3695 and Model 2300HD has an MSRP of $2295. All models are now available through SunBriteTV's network of qualified dealers.
For more information and pictures of scantily-clad women sitting under waterfalls, please visit http://www.sunbritetv.com.