SunBriteTV to Introduce Outdoor LCD TVs
MOORPARK, CA, July 20, 2005 - It was announced today that SunBriteTVTM will feature two all-weather outdoor LCD televisions at CEDIA EXPO 2005, in Booth #1660. In addition to the successful 20" LCD TV Model 2010A-Pro, the new 32" HDTV-compatible wide-format LCD TV, Model 3200HD, will also be introduced.
"We are introducing our family of SunBriteTV products at CEDIA EXPO2005 because both are a natural fit for Residential AV Dealers," says Tom Weaver, engineer and a founder of SunBriteTV. "Our 20-inch, Model 2010A-Pro has already proven successful to our residential dealers for backyard solutions, and the introduction of our Model 3200HD fills the need for larger-screen viewing market."

Designed for permanent outdoor use, SunBriteTV's rugged design withstands extreme temperatures, rain, insects and dust. SunBriteTV's slim and lightweight corrosion-resistant, powder-coated aluminum enclosure protects the internal components from all outdoor elements. Conformal coating on the internal electronics brings additional protection from humidity-related corrosion damage.

Both units are designed with SunBriteTV's baffled and filtered, dual-fan airflow system, which quietly keeps the unit cool in temperatures up to 122 degrees, and keeps rain, dust, and insects from entering the enclosure. In extremely cold climates, the internal thermostatically-controlled heater activates automatically when the TV's internal temperature dips to 32 degrees F. The heater provides a 20 degrees F. temperature rise, allowing the TV to safely remain outdoors in temperatures as low as -24 degrees F.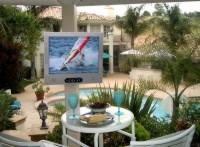 SunBriteTV's innovative watertight cable entry system accepts nearly all video sources, including off-the-air antenna, cable TV, satellite TV, DVD players and PCs. The pass-through design ensures quick and easy hook-up.

"We engineered SunBriteTV so that television and video entertainment can be enjoyed in outdoor venues across the country," explains Weaver. "Our sleek and high-tech unit is attractive to home owners, and the industrial design addresses the harsh environmental and climate issues our users may encounter."

The 20-inch display on the 2010A-Pro projects a super-bright, high-resolution 800 x 600 pixel image with 16.7 million colors, and boasts 1000 nits of brightness and 500:1 contrast ratio. The 32" display on Model 3200HD is HDTV compatible, and projects a 1366 x 768 pixel image, 500 nits of brightness, and an 800:1 contrast ratio. Both units are protected from rain, dirt, and debris by a low-glare, impact- and scratch-resistant window built into the enclosure. The user-friendly operating controls are also sealed against rain and moisture.

SunBriteTV offers a one-year, in-factory, parts and labor warranty. Model 2010A-Pro is available immediately at $2695. The availability date for Model 3200HD is August 2005. The projected MSRP is $4195. Model 3200HD-Pro, that delivers 1000 nits of brightness will be introduced later in this fall.

SunBriteTV products are offered through a network of qualified dealers. To inquire about becoming an authorized SunBriteTV dealer, call directly 888.676.2288, or visit http://www.sunbritetv.com .

About SunBriteTV
SunBriteTV is in affiliation with MPO Videotronics, Inc., a Moorpark, California-based manufacturer that has delivered audio-visual communications solutions to business and industry since 1947.