soundmatters SLIMstage40 Surround Bar
soundmatters SLIMstage40 Surround Bar
Filed under: Loudspeakers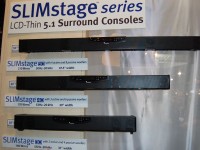 SLIMstage 40
At CEDIA 2007 this week, soundmatters demoed for us the SLIMstage, an all-in-one-surround speaker console that will soon be available to consumers who demand "LCD-thin" surround speakers that provide high-definition audio without unsightly boxes and cables.  We were impressed by the build quality and performance of the SLIMstage 40.

The SLIMstage40 features 170 Watts from eight internal amplifiers, yet it measures a scant 39" (W) x 3.3" (H) x 3.4" (D). SLIMstage is slimmer than virtually all wall-mounted plasma and LCD TV's, however it provides high-definition sonic output with several demonstrable benefits over other single-box surround consoles, including convincing, detailed surround sound from both stereo and 5.1 signals without reflecting walls, and deep, articulate bass without the need for an external subwoofer.

SLIMstage40 features four Linear Magnetic Drive main/satellite speakers in its compact console, along with 170-watts of class-D amplification. Deep bass extension is achieved without an external subwoofer by way of nine bass drivers, including three down-firing Extreme-Energy subs assisted by six mass radiators, resulting in low frequencies that reach down to 45Hz.
Developed exclusively for SLIMstage through a joint effort initiated by Dr. Hareo Hamada, president of DiMAGIC, Inc. and soundmatters' founder Dr. Godehard Guenther, EuphonyHD is a virtual surround technology that produces a well-developed virtual 5.1-channel virtual surround soundstage with a clear center channel image. From a single cabinet, EuphonyHD not only faithfully recreates Dolby Digital and DTS imaging, but it creates a realistic 5.1 soundfield from stereo signals as well.
SLIMstage40 is specifically tailored to complement flat panel TV's measuring 37" diagonally and larger. Along with the speaker driver array are several convenience features, including three digital audio inputs (two optical, one coax), three analog inputs (two on the rear panel plus one front iPod input), as well as a headphone output jack for private listening in virtual surround, thanks to the built-in Euphony technology.
Additional features include a high-contrast LED backlit panel graphics display for easy viewing across a room, a user-friendly IR remote, front panel controls, RS-232 port, and both "easy tilt" shelf feet and a wall bracket.

soundmatters international's SLIMstage40 will be available in mid-November '07 at a suggested retail price of $899. SLIMstage will be available in either a black or silver finish with a removable, paintable grille. (The company will soon ship two additional SLIMstage models – SLIMstage30 and SLIMstage50 -- as well.)

For more information:  www.soundmatters.com