Snell Acoustics THX Speakers
Snell Acoustics THX Speakers
Filed under: Loudspeakers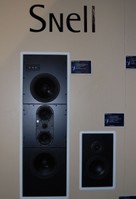 Snell IW C7
Snell Acoustics showcased two new loudspeakers featuring THX Ultra 2 Certification at CEDIA 2007. The company's new Model IC C7 In-Cabinet LCR (SRP: $1,750 each) and IW C7 in-wall LCR (SRP: $2,250 each) are next-generation versions of Snell's widely acclaimed Models XA 1900THX and AMC 2000THX, respectively.

As the first company to introduce THX in 1990 and the first to introduce THX Ultra 2-certified loudspeakers in 2001, Snell established a new performance benchmark for dynamic home entertainment sound, and the company's new THX Ultra 2 certified loudspeakers carry on that tradition with even more richly detailed and nuanced audio performance. Both models are designed to reveal the depth, impact and dynamics of music and movie soundtracks, without the obtrusive look and placement conflicts of typical speakers. Like all Snell products, both models are tuned to .5dB of the reference master.
The new THX Ultra 2 certified speakers feature Snell's acclaimed D'Appolito Array, named for Snell's chief Engineer, Joe D'Appolito Ph.D. When properly designed, this driver arrangement makes the woofers and tweeter appear to play from the same point, regardless of listening position. The result is a palpable level of realism rarely heard from music or theater speakers. In addition, discrete tweeter, midrange and woofer circuitry in both new models ensures optimum time alignment and coherency through the transition region from driver to driver, and each crossover is individually tuned by Snell technicians for superb sonic reproduction.
Both the IW C7 In-wall speaker and IC C7 In-cabinet model feature 1-inch SEAS silk dome tweeters two 4.5-inch SEAS treated paper midrange drivers and two 8-inch copolymer cone woofers for dynamic bass response, and take their design cues from Snell's C7 tower. All three models can be mixed and matched to accommodate virtually any architectural or décor requirement.
The IC C7 loudspeaker is an acoustic suspension design, featuring the drivers from Snell's C7 Tower mounted to a baffle constructed of two layers of ¾-inch MDF sandwiching a layer of neoprene damping material. The sub-enclosure for the D'Appolito Array is integrated to the baffle. It's available in two styles, capable of three different configurations – "S" for standard 16.5"w x 21"h, and "HV" for horizontal or vertical use (30" x 13"). The IW C7 in-wall model features a solid aluminum, acoustic suspension enclosure with full bracing and asphalt damping, and a perforated steel grill. It too uses a three-part baffle and a dedicated sub-enclosure for the D'Appolito Array. The IW C7 comes in a standard paintable white finish, and the IC C7 comes standard with a texture painted black finish. Both the IC C7HV and the IW C7 have a rotatable D'Appolito Array allowing for horizontal or vertical use. All can be ordered in a variety of painted finishes, and the IC C7 is also available in any wood finish.
Snell's Model IC C7 In-Cabinet LCR is scheduled for delivery in October 2007 for a suggested retail price of $1,750 each. The IW C7 in-wall LCR is scheduled for November 2007 delivery (SRP: $2,250 each).  For more information: www.snellacoustics.com