Runco 103-inch 1080p Plasma Display
Runco 103-inch 1080p Plasma Display
Filed under: Televisions & Displays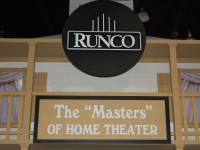 Runco
Looking to be the big dog in your neighborhood?  How about a 103" plasma display from Runco?  If you have the cash, Runco has the unit for you, and it is guaranteed to make you the most popular guy in town, especially during football season!

Runco introduced its 103-inch flat panel, the CinemaWall XP-103DHD at CEDIA 2007 this week. A true statement piece for the most discerning of home theater customers, the XP-103DHD plasma display brings world-famous Runco engineering and design quality to the ultra-large 1080p full-HD plasma category.
The CinemaWall XP-103DHD delivers 1920 x 1080 native resolution, provides ISF calibration modes for the installer's convenience and addresses the unique needs of the most demanding customers. It includes DVI with HDCP and RS-232 inputs for connection to its outboard DHD Digital Controller. Runco's next-generation DHD features a wealth of inputs and switching, and incorporates Runco's ViVix II digital video processing technology, which prevents distortion-causing "double scaling." The DHD provides premium aspect ratio control, optimizing signal reproduction for anamorphic, letterbox and 4:3 content, and its VirtualWide technology converts 4:3 video to the display's native 16:9 while retaining image integrity. The DHD's Orthogonal Line Correction adjusts for unwanted time-elapsed artifacts. For film-oriented programming, the DHD provides 3:2 and 2:2 pull-down for maximum-quality playback.

The CinemaWall XP-103DHD will be available in December 2007, and it will carry an MSRP of $99,995.

For more information on Runco, please visit www.runco.com.