RBH Sound SI-250 In-wall Speaker with Linear Array Technology
RBH Sound SI-250 In-wall Speaker with Linear Array Technology
Filed under: Loudspeakers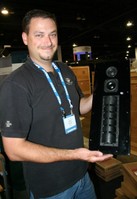 SI-250 In-wall Speaker
RBH Sound unveiled at CEDIA a prototype of the SI-250, the world's first in-wall speaker to incorporate Linear Array Transducer technology. The Signature In-wall SI-250 incorporates a 1-inch soft dome tweeter, a 2½-inch mid-range and a patented Linear Array Transducer (LAT) as the in-wall's woofer. The LAT woofer is designed to provide high amounts of bass output from a very small environment, a feature highly preferred by décor conscious listeners.
Despite its smaller size, the SI-250's LAT woofer has the capability of sustained output levels in excess of 100 dB SPL! Combining this low frequency performance with the high-fidelity of the 1-inch tweeter and 2½-inch mid-range, the SI-250 promises to be a fantastic in-wall speaker for home theaters and listening rooms where wall space is at a premium.
The suggested retail price of the SI-250 has not been set, and its predicted availability is 1st quarter, 2008.
We were amazed by the small size of the speaker and are really looking forward to hearing how these sound in action.

 For more information on RBH Sound, please call (800) 543-2205 or visit www.rbhsound.com.