Paradigm SA Series In-Wall/Ceiling Speakers
Paradigm SA Series In-Wall/Ceiling Speakers
Filed under: Loudspeakers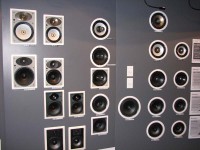 Paradigm Speakers
Paradigm Electronics Inc. introduced the latest version of their Reference SA Series of in-wall/in-ceiling speakers. According to Mark Aling of Paradigm, their in-wall speakers undergo controlled Double Blind (DBT) listening tests to ensure they sonically match their box speaker counterparts.
In addition to the impressive advancements in speaker technology (see farther below) across the lineup, the series includes two new models: SA-15R-SM and the SA-15R-30. The SA-15R-SM is a stereo/mono model featuring the company's proprietary Dual-Directional Soundfield™ — rich dual-channel sound from a single speaker. The S/M model is ideal in smaller areas, or rooms where a stereo pair would not be suitable or is not desired. The SA-15R-30, with its unique high-frequency PhaseArm™, features Paradigm's proprietary Guided Soundfield™ system, allowing the purchaser to guide the sound exactly where they want it in a room. The PhaseArm™ positions the high-frequency driver closer to the plane of the ceiling, resulting in improved phase response as well as improved dispersion, both on and off axis.
High-performance features found in the v.2 line-up include:
NEW! State-of-the-Art High-Power 1˝ (25-mm) G-PAL™ Gold-Anodized Pure-Aluminum Domes. Chosen for their rigidity and tremendous internal damping properties.
NEW! State-of-the-Art High-Power S-PAL™ Satin-Anodized Pure-Aluminum Bass/Midrange Cones. Improved sonic performance through enhanced cone rigidity.
NEW! Gold-Anodized Solid-Aluminum Phase Plugs increase airflow for improved power handling. Critically shaped to contribute to the accuracy of phase response.
State-of-the-Art High-Power Mineral-Filled Polypropylene Bass Cones. Highly damped and extremely rigid, they ensure tight, well-defined, deep bass response.
Ultra-Rigid™ Die-Cast Aluminum Chassis or GRIP™ Chassis and Mounting Brackets (varies by model) enhance wall rigidity and reduce the opportunity for unwanted resonances and distortion to color sound.
NEW! Lightweight 1˝ Aluminum or Copper-Clad Aluminum-Wire Voice Coils with ventilated Apical™ formers ensure superb accuracy and reliability.
NEW! State-of-the-Art Precision Crossover Networks using two-sided circuit boards have been tweaked for improved frequency and phase response. 14-guage wire or better.
 NEW! Paradigm-designed PosiGrip™ binding posts.
To combat wall flexibility, which can leave an in-wall or in-ceiling speaker prone to uncontrolled resonances and standing waves, SA speakers have Ultra-Rigid™ die-cast aluminum chassis and mounting brackets. In-wall chassis on this new generation have been redesigned to match their in-ceiling counterparts, boasting deeper ribbing and further recessed grilles. The result is that crucial area around the mounting hole is further strengthened and reinforced. Not only is wall rigidity enhanced but opportunities for unwanted resonances and distortion to color sound is dramatically reduced.
SA Series v.2 includes:
SA-10R – Two-driver, 2-way in-ceiling/in-wall: $649 pr
SA-15R – Two-driver, 2-way in-ceiling/in-wall: $799 pr
NEW MODEL! SA-15R-SM – Single speaker system with stereo L/R inputs. 3-driver, 2-way
in-ceiling/in-wall: $449 ea
NEW MODEL! SA-15R-30 – Two-driver (mounted at 30 degrees relative to ceiling), 2-way
in-ceiling: $549 ea
NEW MODEL! SA-25 – Two-driver 2-way in-wall/in-ceiling: $799 pr
SA-30 – Rectangular two-driver 2-way: $999 pr
SA-35 – Rectangular three-driver 2-way: $1,599 pr
For more information on Paradigm, please visit www.paradigm.com.