Paradigm DSP Subwoofers
Filed under: Loudspeakers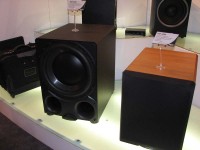 Paradigm DSP Subwoofer
Paradigm revamped their entry level subwoofer line with the introduction of three new DSP-controlled subwoofers. From left to right are the DSP-3400 ($899), DSP-3200 ($699) and DSP-3100 ($499).
The DSP-3400 houses a 14" high excursion driver with a 300 watt (900 watt peak) amplifier and DSP control.
Paradigm claims they moved the ports of these subs to the front to accommodate custom installers looking to place them into cabinetry. Those ports look like they could move a lot of air and it was quite evident to me that these subs are serious contenders despite their modest asking price.
These subs are offered in Cherry, Rosenut, Black Ash and will be available Q4 of 2007.
For more information, visit: http://www.paradigm.com