Panasonic PT-AE2000 Projector
Panasonic PT-AE2000 Projector
Filed under: Projectors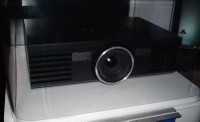 Panasonic PT-AE2000U Projector
Panasonic stunned us with their new 1080p PT-AE2000U featuring a brightness of 1,500 lumen and a stated 16,000:1 contrast ratio. The new projector is the next iteration of its predecessor, the PT-AE1000U, which we thought was an excellent projector to carry on the Panasonic trend of excellent quality, budget-conscious products. The projector's new "Detail Clarity Processor" analyzes frequency characteristics of each frame in three dimensions (horizontal, vertical, and along the time axis) and applies necessary sharpness at varying degrees to create natural, life-like images with exceptional clarity.

The PT-AE2000U's enhanced unique Pure Color Filter Pro uses optical adjustment to achieve a higher purity level of the three primary colors; it also helps displays deeper, purer blacks. The color space has also apparently been extended even more to match the approximate level specified in the digital cinema industry.

The new projector also incorporates Panasonic's well-known Smooth Screen technology that reduces the black lines between pixels that come across as the dreaded screen door effect. We were glad to see that Panasonic's original Dynamic Iris has also been improved by controlling the iris speed at finer increments to help reproduce darker blacks and brighter whites.

The image processing system has also been improved dramatically, with a maximum of 16 bit digital signal processing. The projector also incorporates next-generation, full high definition C2Fine D7 LCD panels, which are characterized by inorganic alignment layer and vertically aligned liquid crystals for enhanced black level performance.

The pro features of the PT-AE2000U include Split Adjust mode to allow users to split the screen into two halves, one to make picture adjustments and one to see those adjustments as a baseline reference. I LOVE this feature as it provides a concrete way to observe actual picture adjustments. Second, the PT-AE2000U's waveform monitor - seen mostly on professional video and film equipment - measures the level of brightness output from a given video signal source. This feature also now automatically verifies that the source device is outputting at full dynamic range, and quickly makes adjustments to optimize it for your home theater setting. Users can easily see a graphical representation of any changes made to the unit's color settings.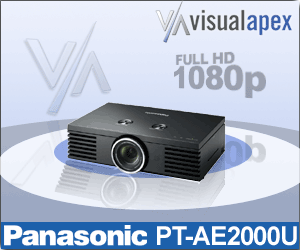 In addition, the Cinema Color Management feature helps color correct approximately 1,070,000,000 different colors for a more refined, customized control of individual colors -- closely representing the process used by Hollywood's motion picture color correction specialists. The PT-AE2000U also incorporates picture modes demanded by film production studios to help them with production and post-production activities. You can now store up to eighteen personalized settings with customized names.

The PT-AE2000U is now equipped with three HDMI inputs, so you can connect multiple HD sources without a HDMI switcher. The advantage to this is the ability to set up different levels of calibration per input. Set-up and installation are a snap with the PT-AE2000U projector's 2x powered zoom and its wide lens shift range. Thanks to both features, the new model can cast a 120-inch diagonal image from as little as 3.6 meters (about 11 feet) to 7 meters (24 feet) from the screen. The new projector's lens shift capability enables full, 100 percent vertical adjustment and 40 percent horizontal adjustment so that viewers can suspend the projector close to the ceiling in a stylish fashion, or conveniently place the projector on a book shelf.

The projector's lens-centered design and maintenance features, such as the replaceable side filter and top lamp, make the ceiling mount very easy to install. The PT-AE2000U's jet black color and sleek cabinet design also fit well in home theater environments, and its universal remote control enables viewers to easily control their entire home theater system from one device.

The Panasonic PT-AE2000U LCD home theater projector will be available starting in October at authorized presentation systems dealers. MSRP is expected to be around $2999.

For more information please visit http://www.panasonic.com/projectors.