Panamax Power Conditioners
Panamax Power Conditioners
Filed under: Miscellaneous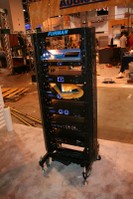 Panamax Power Conditioners
Panamax/Furman showed off four new MAX power management products: the M4300-PM, M5100-PM, M5300-PM, and M5400-PM offer advanced linear filtration for noise reduction and patent-pending circuitry to protect components from damaging power irregularities.

The M4300-PM power conditioner offers 'Level 2 power cleaning' and Linear Filtration Technology (LiFT) to eliminate common symptoms of AC line noise, allowing equipment to perform at full capability for an optimal home theater experience. Additionally, noise isolation between the two isolated outlet banks prevents any noise created by a component plugged into one bank from contaminating the power to equipment plugged into the other outlet bank.

For increased protection against AC noise, the M5100-PM offers 'Level 3 power cleaning' and LiFT for a 60 percent increase in noise-eliminating efficiency over Level 2. The M5300-PM offers 'Level 4 power cleaning', while the M5400-PM's Level 4+ performance adds voltage regulation.

The M5100-PM features three isolated outlet banks, while the M5300-PM and M5400-PM offer five, including two high-current outlets. All three conditioners offer sequential startup/shutdown, which prevents internally generated voltage transients that occur when home theater components are powered on or off at the same time. A 12-volt trigger input allows source equipment to activate or deactivate the delayed outlets.

All power management products feature Automatic Voltage Monitoring (AVM), a patent-pending technology that monitors the incoming power as displayed on the digital voltmeter. In case of an undervoltage or an overvoltage, a flashing red lightning bolt will be displayed in the voltmeter, and power to the connected equipment is automatically turned off if either of these conditions is detected. When voltage returns to a safe level, power to the equipment is automatically reconnected.

Additionally, the new PM family products offer a USB charger and gaming AC convenience outlet on the front panel, allowing portable devices to be conveniently connected to and disconnected from the unit. The M5100-PM, M5300-PM, and M5400-PM also feature a LAN port on the front panel for additional protection of portable devices.

The M4300-PM will be available September 2007 at an SRP of $299.95; the M5100-PM will be available September 2007 at an SRP of $399.95; the M5300-PM will be available at an SRP of $499.95; and the M5400-PM will be available at an SRP of $699.95.

For more information please visit www.panamax.com.