NHT Pro Theater Speaker System
NHT Pro Theater Speaker System
Filed under: Loudspeakers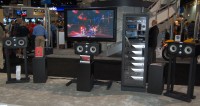 NHT Pro Theater
One of my favorite products introduced at the 2007 CEDIA Expo was NHT's new top-of-the-line Pro Theater System that is designed for consumers who want to fill big rooms with the best possible sonics for their investment.  This is easily one of the most impressive home theater speaker systems I have seen and heard.

The NHT Pro Theater System borrows components from the company's revered pro audio line to create a system that is powerful, dynamic and unerringly accurate. Specifically, it features five M-80 Xd monitors (one per channel), a pair of S-80 Xd powered subwoofers and five XdA DSP Processor/Amplifiers (one per channel).

The NHT Pro Theater System is not an off-the-shelf solution. Rather, installers and in many cases, consumers will confer with an NHT representative to discuss the room, installation requirements and other points before the final system is specified. To make this a true "custom" system, NHT will fine-tune the XdA's filters to best complement the room and cabinets that house the monitors.  The system can also be expanded as needed (such as adding additional subwoofers).

Originally designed for professional recording and post production studios, the M-80 Xd is a three-way acoustic suspension model with two 8" magnesium woofers, two 2" aluminum dome midrange drivers, and one 1" aluminum dome tweeter. Measuring a sizable 10" x 22.5" x 12 " (H/W/D) and weighing 40 lbs., the M-80 Xd's sound is as large as its enclosure, handling up to 600 Watts RMS. Frequency response is 45Hz – 20kHz, +/- 2dB.

All drivers in the M-80 Xd are driven by NHT's XdA DSP processor/amplifier, which houses the DEQX DSP processor, four amplifiers, and switching power supply. With DEQX Calibrated DSP speaker correction, all listeners, including those sitting off axis, enjoy ruler-flat response.

Inputs/outputs include RCA and balanced (XLR) inputs, one balanced output, and one NFL8 Neutrik output. Additionally, the XdA is "future proof" thanks to the addition of a USB 2.0 port and a microphone input, both of which are designed for upcoming upgrades. Unlike most systems, the XdA features only two controls for the respective channel boundary filter set in order to compensate for monitor placement artifacts.

Filling in the bottom end is the M-80's pro audio counterpart, the S-80 Xd powered subwoofer. The 500 Watt S-80 Xd digs down to 17Hz, thanks to the inclusion of two 12" aluminum woofers in a highly efficient acoustic suspension design.

This is an exciting product - arguably my favorite of the show.  The NHT Pro Theater System will be available in November 2007. Pricing for the above configuration plus cables is approximately $40,000.