Mirage Prestige 5 System
Filed under: Loudspeakers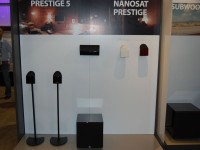 Mirage Prestige 5
Mirage launched the Prestige 5 system at the 2007 CEDIA conference.  Each magnetically-shielded Prestige satellite features a multi-layered, hand-crafted medium density fiberboard cabinet, and employs a 2.75-inch titanium deposit polypropylene woofer and 0.75-inch Pure Titanium Hybrid™ tweeter mounted in Mirage's patented OMNIGUIDE dispersion system. The OMNIGUIDE module is hidden under a black cloth-covered grille, creating a classy look that easily integrates the satellites into any home décor. Equipped with high-quality five-way binding posts, these speakers permit the use of banana plugs, spades or a bare wire connection. Furthermore, these speakers can be wall mounted using the included brackets, placed on a table, tucked away on a shelf, or affixed to optional MS-STB stands for endless placement flexibility.

The magnetically-shielded center channel is a two-way design that utilizes proprietary OMNIGUIDE technology with a 0.75-inch Pure Titanium Hybrid tweeter and 3-inch polypropylene woofer. Constructed of high-quality extruded aluminum, the center channel features premium five-way mounting terminals on the back of its cabinet for improved speaker connectivity. It comes equipped with simple tabletop mount as well as a unique bracket for flush mounting to a wall.

For increased low-frequency response, Mirage recommends pairing the system up with its Prestige S10 or S8 subwoofers that are sold separately.

A bass-reflex design with dual rear-firing ports, the Prestige S10 features a powerful 10-inch front-firing fiberglass composite driver with patented Ribbed Elliptical Surround™. This proprietary design eliminates any surround dimpling, enabling the subwoofer to play lower with greater output and fidelity. A high-performance BASH® amplifier allows this hard-hitter to deliver 300 watts of continuous power and 1,200 watts of dynamic peak power.

A bass-reflex design with a single rear-firing port, the smaller Prestige S8 offers the same driver technology as the S10, but instead utilizes an 8-inch woofer and generates 200 watts of continuous power and 800 watts of dynamic peak power.

Available in a high-gloss black piano lacquer finish, the Prestige 5 bundle, priced at a U.S. MSRP of $899, will be available for purchase through the specialty retail market this summer, while the optional Prestige subwoofers—which feature the same finish—will launch later in the fall.

For More Information:
www.miragespeakers.com