MARANTZ RC9001 Remote Control
MARANTZ RC9001 Remote Control
Filed under: Miscellaneous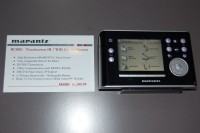 Marantz RC9001
Marantz introduced a new line of advanced Universal Remote Controls at CEDIA 2007 led by the flagship RC9001.
The company's new Model RC9001 Universal Learning Remote (SRP: $1,500) is dubbed as "the ultimate solution for complete multi-zone home theater control." Featuring both WiFi and RF command and control capability, the RC9001 incorporates a high-resolution 3.7" LCD touchscreen and is designed to unify all components of a total multi-zone home theater system, from high-end home theater equipment and custom lighting to multi-room audio solutions.
In addition to offering unified command and control of home entertainment components, the RC9001 has a dedicated user interface that can intuitively control custom lighting (such as Lutron Electronics Co., Inc's RadioRA® lighting control) and multi-room audio (such as Escient® Fireball® Media Manager).
The RC9001 meets growing custom installation and consumer demand for customized, upgradeable home entertainment technology, delivering simplified convergence and control for hundreds of different devices.
Marantz®'s new line of advanced universal remote controls also includes the Model RC3001 (SRP: $350), which offers both RF command and control and is PC-programmable, the RC2001 (SRP: $199), and the high-value RC101 (SRP: $50). For more information:  www.marantz.com