MARANTZ A / V RECEIVERS
Filed under: A/V Receivers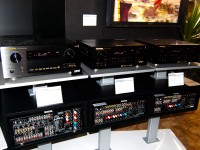 Marantz A/V Receivers
Marantz America is upgrading its acclaimed line of multi-channel audio/video receivers at CEDIA 2007 with the introduction of four new models that provide custom installers with the leading-edge tools and capabilities they need to serve their clients with dynamic surround sound solutions and multi-room signal distribution.

The company's four new 7.1-channel receivers, all with HDMI 1.3 switching capability, include the SR8002 (SRP: $2,099.99), replacing the SR8001; the SR7002 (SRP: $1,499.99), replacing the SR7001; the SR5002 (SRP: $799.99), replacing the SR5001; and the SR4002 (SRP: $599.99), replacing the SR4001. The four new Marantz® receivers will be available in October.

Marantz' new A / V receivers offer a wide variety of features and capabilities that will appeal particularly to custom installers, such as detachable power cords and lead-free construction. Among the leading-edge technologies included in various models throughout the line are THX® Select2 processing, multi-room distribution, Dolby Laboratories' Virtual Speaker 2, MultEQ™ room correction and calibration technology from Audyssey Laboratories, as well as Marantz' proprietary MRAC (Marantz Room Acoustic Calibration) feature with an included high-quality microphone. All four new models feature a specially designed shallow (<16" deep) chassis with a sleek front-panel design, as well as a cursor-controlled menu system for total ease of operation.

SR8002 and SR7002
The Marantz SR8002 and SR7002 receivers reflect the company's commitment to providing superior audio and video performance from all sources, and both provide users with an easy way to distribute audio and video entertainment to multiple separate zones within the home. Both receivers feature Dolby Digital Plus, Dolby True HD and DTS HD decoding capabilities along with XM HD. The SR8002 also features HD Radio, 3 zones of audio, a copper chassis and a toroidal power transformer. Both models include four HDMI 1.3 inputs and two HDMI 1.3 outputs. For ease of set-up and enhanced performance, both feature HDMI 1.3 repeating capability, eliminating signal loss and allowing them to repeat 1080p video signals from HDMI input to HDMI output as well as decode a variety of audio signals via HDMI. Both models are capable of upconverting Composite, S video and Component Video signals to HDMI, feature a 480i / 480p converter, with time-based correction, have assignable dual component outputs as well as two DC trigger outputs. The SR8002's massive Toroidal Transformer provides 125 watts of power output for authoritative, effortless reproduction of movie soundtracks and music (the SR7002 outputs110-watts per channel). A special Compressed Music Enhancer feature in both models adds dynamics to the enjoyment of music recorded in MP3 and other compressed formats.
SR5002 and SR4002
Marantz will also be showcasing its two new high-value 7.1-channel surround sound receivers, models SR5002 and SR4002, both featuring upgrades to HDMI 1.3 switching. Both models also feature HDMI 1.1 Repeating capability, and for total future-readiness, both will also accept LPCM 7.1 signals from an HD DVD player or Blu-ray player. Both models are ideal for customers who wish to step up to a higher level of home entertainment performance and flexibility for a more affordable price. In addition to Dolby Pro Logic, Dolby Digital, Dolby Digital EX, DTS and DTS ES processing, they both feature dual component outputs and upconversion capability to component video. As a multi-room receiver, the SR5002 provides 2nd zone audio output capability (individual source), IR Flasher input DC trigger output and RS232 port. In addition, it is XM-ready with discrete IR commands.
For more information:  www.marantz.com