Klipsch Palladium P-39F Floorstanding Loudspeakers
Klipsch Palladium P-39F Floorstanding Loudspeakers
Filed under: Loudspeakers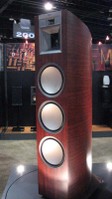 Klipsch Palladium
Klipsch unveiled a new flagship Palladium P-39F floorstanding speaker to be a universal masterpiece of sound and design. The company plans to use this ultra-luxury product with unprecedented proprietary technologies to fulfill the most exacting demands of select customers around the world.

"Offering the highest level of perfection in every respect, this speaker is the pinnacle of modern-day horn-loaded technology and craftsmanship," said Jim Garrett, Klipsch director of product planning. Now that the Klipsch name is highly recognized and trusted on a much broader scale, we believe the market is ready to experience our more esoteric side."

According to Garrett, a large percentage of high-end speakers utilize "off-the-shelf" drivers whereas, the P-39F drivers were carefully designed and tested in the company's advanced engineering and technology center in Indianapolis, Ind.

A 3.5-way Tapered Array™ design, the P-39F employs a new, proprietary horn-loaded tweeter assembly made of unique acoustically-damped materials, a sophisticated inverted dome midrange, and three high-output woofers to create a stunningly precise audio experience with high sensitivity and extremely low distortion.

Developed from the ground up, the speaker's ¾-inch titanium diaphragm tweeter utilizes two powerful neodymium magnets and a resistively damped back chamber. A uniquely chambered phase plug and exclusive Tractrix® Horn combination delivers an extended high-frequency response that is inherently flat from 3kHz to 30kHz. Additionally, this arrangement reduces heat levels so that the driver will maintain its full dynamic capability at any volume level.

Housed in its own acoustically-tuned, sealed enclosure, the P-39F midrange employs a 4.5-inch inverted aluminum diaphragm driver powered by three high-temperature neodymium magnets, allowing it to operate effortlessly from 500Hz to 3kHz. A copper-capped pole piece reduces inductance modulation, giving a low-distortion, clean sound. The 1-inch voice coil not only delivers high sensitivity, but also generates a very responsive and accurate moving system.

The midrange's lightweight foamed rubber surround allows the P-39F to achieve improved linear excursion, especially in the high-frequency range. The midrange driver is coupled to a 90-degree by 60-degree acoustically-damped Tractrix Horn via a four-to-one compression phase plug, which is specifically designed to operate over the midrange frequencies.

The P-39F three low-frequency drivers employ 9-inch aluminum cone woofers powered by a unique three-part neodymium magnet structure with dual stabilizing rings that reduce nonlinear flux. Triple ports further enhance low-distortion bass response. Each woofer's 1.5-inch voice coil responds accurately to the smallest signal modulation, yet can also handle the high power of the most demanding soundtracks.

For signal purity and perfect driver integration, the P-39F's crossover network features the finest components. When combined with the smooth, natural roll off of the drivers, the network creates a fourth-order electro-acoustic filter. Found in a damped region of the speaker's base plate, the network also allows the tri-wire input connectors to be hidden from view.

Featuring a "boat-tail" enclosure, the P-39F's cabinet walls are up to 30mm thick and feature multiple laminations of medium density fiberboard that have been molded through a proprietary process. Extensive internal bracing gives the speaker a more rigid and structurally sound enclosure.

It is also important to note that every P-39F comes as a "matching" left and right speaker pair. Meaning, not only are all of the driver components within each particular set acoustically matched, their cabinets also coordinate with one another by positioning their triple ports on opposite sides and sharing the same wood grain finish.

Having worked in conjunction with DesignworksUSA—a highly-respected design studio that has done projects for BMW, MINI, and Rolls Royce—Klipsch was able to make the P-39F a truly unique and elite statement piece. A pair easily transforms your living space into a "stylish gallery" with the richness of their real wood veneer cabinets—available in three high-class finishes—and overall clean appearance with no visible fasteners.

"True luxury is about the best of everything and the P-39F certainly embodies that notion," said Garrett. "A real object of desire, this speaker could easily be considered the Dom Pérignon of floorstanders."

The P-39F floorstanders are slated to begin shipping to the domestic and international specialty retail and contracting markets this fall. For a complete home theater experience, six other globally-inspired high-end models, which use the same technology and design principles as the P-39F, will be introduced at CES 2008 in Las Vegas.

Aesthetically these speakers have no equal.  Elegant in design and construction, it was clear to us that these are some serious speakers.  The 160lbs sport car aerodynamically shaped cabinets are constructed of sterner stuff.  The triple ports on the back side of the cabinet were as beautiful as they were clever.  The inverted butyl rubber surrounds on the flat aluminum cone woofers begged to be listened too.  These speakers are on our hot list for a future review.
Klipsch Palladium MSRP $15,000/pair 
For more information, visit http://www.klipsch.com.