KEF XQ Series Speakers
Filed under: Loudspeakers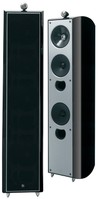 KEF XQ5
Apparently, someone is listening. Feedback from consumers is what ultimately led KEF to develop the new XQ Series of high performance loudspeakers. The line bridges the gap between its flagship Reference range and the iQ Series. Integrating technology advancements from the Reference line, the XQ Series consists of five models including the XQ10, XQ20, XQ30, XQ40, and XQ50c with prices ranging from $700 to $1,700 per speaker.
The XQ product range incorporates KEF's newest technology upgrades with stylish, elegant finish options. The speakers offer KEF's Uni-Q array with a sophisticated elliptical dome tweeter and a patented 'Uni-Form' flat surround midrange driver. Also added in this series is a protective "crown-waveguide" for smoother and more extended high frequency response.
The XQ series is packed with aesthetic enhancements. Designed around the needs of the consumer, each model comes with a high-gloss natural wood finish to complement existing décor. Additional features like magnetic grill attachments and direct fitting WBT terminals were added to further improve this series aesthetic appeal.
Enhancements in the XQ Series:
Titanium finished driver array
Extended bandwidth eliminating the need for the hypertweeter.
"Crown-waveguide" device to protect tweeter from damage and improve high frequency dispersion
Crossover network using high-grade, tight-tolerance components
High-gloss natural wood veneer finishes; birds-eye maple, khaya mahogany, and piano black
Introduction of easy attachment grills using magnets, improved baffle aesthetics
Audiophile grade WBT terminals are fitted directly to the cabinet

The XQ Series includes the following models:
XQ 10 (5.25" Uni-Q Bookshelf Speaker), MSRP of $1,400/pr
XQ 20 (6.5" Uni-Q Bookshelf Speaker), MSRP of $1,800/pr
XQ 30 (5.25" Uni-Q, 1x 5.25" LF Floorstanding Speaker), MSRP of $2,600/pr
XQ 40 (6.5" Uni-Q, 2 x 6.5" LF Floorstanding Speaker), MSRP of $3,400/pr
XQ 50c (5.25" Uni-Q, 2 x 5.25" LF Center Channel Speaker), MSRP $1,200/ea

All models will be available in September of 2007. For more information, visit www.kef.com.