Gefen Scalers, HDMI products, and PVRs
Gefen Scalers, HDMI products, and PVRs
Filed under: Audio & Video Processors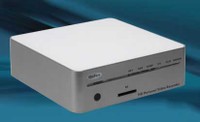 Gefen Personal Video Recorder HD
Gefen, as always, had some pretty nifty new products it was showing off, from the expects switching products to the more surprising PVRs - in both HD and SD flavors. Here's what was new at their booth.

Home Theater Scaler Plus
Reliable and revolutionary, this Scaler performs three distinct functions: it enables an effortless integration of analog and digital audio/video components, converting signals to the HDMI format with supplemental audio output independently; it performs seamless source switching among four different audio/video inputs; and it scales all video in multiple high definition resolutions before outputting in the HDMI format for the best digital image possible.

HDMI 1080p Scaler
Designed for those who demand uncompromised quality in their HDTV signal, this new Scaler simplifies the up/down video scaling of the HDMI signal while allowing for tweaking of independent digital and analog audio signals on the output. Ensures a pristine digital video signal complemented by lush audio for an enriching, surround sound environment.

4x4 HDMI CAT-5 Extender
This powerful problem-solver delivers robust matrix switching among four HMDI sources and four HDMI displays plus high definition audio/video signal extension over category-5 cable. It allows all four displays to be placed up to 150 feet from their sources with full HDCP compliance guaranteed. HDMI signals are delivered to their remote displays using small receivers connected to the Matrix by category-5 cable. The system uses two IR remotes to manage long-distance matrix switching in all four zones.

3x1 HDMI 1.3 Switcher
Fully upgraded to handle the next generation HDMI 1.3 format, this switcher performs professional quality source switching, allowing up to three HDMI sources to be accessed and viewed on one HDMI display. This model also supplies a HDMI 1.3 compliant toggle switch on the front panel in addition to the IR remote for added convenience.

4x1 HDMI 1.3 Switcher
Performs seamless source switching between four independent HDMI sources using one HDMI display while supporting next generation HDMI formats. Fully HDMI 1.3 compliant switching is controlled by IR remote or by the local switch button on the front panel.

2x1 HDMI CAT-5 Switcher
This switcher/extender combo offers reliable source switching between two HDMI sources using one HDMI display. It also enables the display to be placed up to 100 meters from both sources at 1080i resolutions or 50 meters at 1080p resolutions. Remote switching is controlled by IR remote.

HDMI Signal Generator
Ideal for testing and validating HDMI signal integrity, 1080p performance and HDCP key checking, this simple-to-use tool is highly recommended for everyone selling home theater systems today. Resellers will appreciate its ability to enable a reliable method of testing signal quality.

Personal Video Recorder HD (MSRP $999)
This was the surprise of the booth. Gefen's plug and play PVR solution allows you to record television programming and home movies and take them with you for HDTV on the go. The form-factor is very much like the Mac Mini and it offers a built-in switcher for two sources (HDMI and composite/s-video) plus a up/down video scaler that outputs the highest quality video possible in HDMI format. Comes with full HDCP compliance, a 80gig hard drive and an optional standard definition card slot to move pictures or movies to your computer or other playback devices.

Personal Video Recorder SD (MSRP $649)
This standard definition version of the Gefen Personal Video Recorder offers two video inputs in component and composite/s-video formats.  In addition to source switching, it offers the ability to record video in standard definition video resolutions and comes with a USB slot for use with "Disc on Key" type USB hard disks to move pictures or video to your computer or other playback devices.

Digital to Analog Audio Converter
Provides a simple yet reliable method of converting digital audio formats (SPDIF and TOSlink) to stereo analog audio output (RCA connectors).

For additional information visit www.gefen.com.