Energy Take Classic
Filed under: Loudspeakers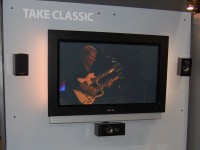 Take Classic
Energy renews an old favorite with the introduction of the Take Classic at the 2007 CEDIA Expo.  Building on the success of the award winning Take 5, the Take Classic is an update of a proven product. 

Consisting of four matching satellites that serve as front and surround channels, a center channel for crisp dialogue and detail, and a powerful subwoofer for amazing bass response, the Take Classic comes in a high-gloss black finish.

Standing less than 7-inches high and weighing less than 3 pounds, each magnetically-shielded satellite is a bass-reflex design with a rear-firing port. All of these speakers utilize a Convergent Source Module with a 3-inch poly-titanium woofer and a ¾-inch Hyperbolic™ aluminum-dome tweeter for a dynamic frequency range and expansive soundstage. Equipped with mini five-way binding posts for high-quality connection and offering amazing placement flexibility, these satellites feature a built-in keyhole slot and a ¼-inch – 20 insert for wall mounting.

The 3-pound magnetically-shielded center channel has all the same features and technologies as the satellites, except for the fact it employs dual front-firing ports.

Completing the system's bottom-end performance is a compact subwoofer with a front-firing port. It employs an 8-inch MPP woofer with a patented Ribbed Elliptical Surround™ coupled to an efficient 200-watt amplifier. This proprietary design eliminates surround distortion, enabling the subwoofer to play lower with greater output and fidelity.

Slated for release in October, the Take Classic will be sold through the mass and specialty retail channels for $599.
For more information, visit: http://www.energy-speakers.com/