DLP 3-D Technology
Filed under: Technology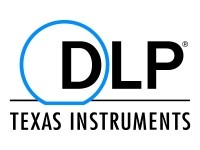 DLP 3-D Technology
3-D is coming back... or did it ever leave... Well, in any case, DLP and Texas Instruments demoed a new high-definition DLP-based 3-D technology at the DLP Products booth. DLP core technology is enabling stereoscopic 3-D capability for HDTVs that are currently on the market. Newly developed 3-D-Ready HDTV models from Mitsubishi and Samsung can create a high-definition stereo 3-D picture when connected to a compatible HDMI/DVI source. Active glasses synchronize to the display then separate the stereo images to each eye providing the enriching flicker-free immersive 3-D viewing experience.
TI DLP Products is attempting to usher in rapid growth of 3-D movies and content by working closely with major movie studios, OEMs and partner companies. Their hope is that the demonstrated consumer interest in 3-D entertainment content continues to steadily increase as a result of theatrical 3-D releases such as Meet the Robinsons, Harry Potter and the Order of the Phoenix and other studio projects in development including Beowulf and Avatar.
The Technology
The foundation for DLP 3-D HDTV is found in the SmoothPicture algorithm. DLP 3-D Technology utilizes the SmoothPicture subframes to generate independent views for the left and right eyes. A signal is generated for each subframe and transmitted optically to the LCD shutter glasses that are worn by the viewer. The LCD shutter glasses will process the signal and will control the shutter for each eye to ensure that the correct left and right views are displayed to the correct eye.
By utilizing the SmoothPicture architecture, Texas Instruments is able to supply a 3-D-capable display with little additional electronic cost. The main cost to this solution is a modest cost in the eyewear. As such, consumers can purchase a 3-D Ready television for the same price as the traditional 2-D television. They can then choose to purchase the eyewear with the television or upgrade at a later time.

DLP is attempting to simplify the 3-D process - at least in terms of how it will work:
Connect your 3-D DLP HDTV – offered by either Mitsubishi or Samsung – to a compatible 3-D source
Plug the transmitter into the HDTV VESA sync port
Place the DLP HDTV into 3-D mode
Put on the active 3-D glasses
Links for other 3-D HDTV products:
"The next evolution of film making and production will center around creating an immersive experience for viewers," said Steve Schklair, founder and CEO of 3ality. "3-D advances are the corner stone to producing the ultimate experience for watching movie footage or live events. DLP Products has been a strong contributor the future of 3-D."
For more information visit http://www.dlp.com/hdtv/3-d_dlp_hdtv.aspx.