Destination Audio F300T
Filed under: Loudspeakers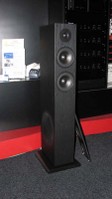 Destination Audio F300
The F300T is a 3-way tower speaker which consists of an 8-inch Compressed Cellulose Composite Subwoofer, dual 5.25-inch Poly Graphite cone mid-range woofers and a 1-inch fabric dome tweeter. The F300T can handle 150 Watts, has a frequency response of 45Hz-20kHz, measures 42.5"H x 11"W x 13.25"D and weighs 40 pounds each. The F300T has a suggested retail of $780 per pair, making it one of the most economical high performance tower speakers on the market. The design engineering team from RBH Sound based the design of this system on their TK-5CT tower which we found to be an unusually great value.  We heard a demo of this system on the noisy show floor and were quite impressed with their ability to play unusually loud and clean. It is obvious that Destination Audio is using all of their engineering know how to design the highest performance to value ratio system.   
About Destination Audio
Destination Audio, a privately held company headquartered in Layton Utah, is a manufacturer of audio products for residential and light commercial installations. The company offers a variety of audio solutions to fit any application and budget. Destination Audio's products include built-in speakers, freestanding speakers, outdoor speakers and electronics. The company sells its products through a network of authorized distributors throughout the world. For more information; visit http://www.destinationaudio.com or call 800-543-2205.