Cabasse Alcyone
Filed under: Loudspeakers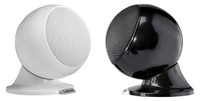 Cabasse Alcyone
The French company Cabasse showed off the Alcyone, a new compact spherical form-factor loudspeaker to the North American Market. Cabasse offers the Alcyone in a complete 5.1 system consisting of a matching Santorin 17 active subwoofer with 6.5" driver, 200 watt built-in amplifier and five satellites plus a full set of cables for easy setup. MSRP for the complete 5.1 system will be $1,059. Alcyone will be shipping in the U.S. starting this October in choice of Black or White finishes and optional matching stands ($350/pr MSRP).
Weighing in at a mere pound and a half and measuring only 4" in diameter, the robust Alcyone boasts peak power handling of 350 watts and a sensitivity rating of 91dB (8 ohm impedance) allowing them to be easily driven by modestly powered amplifiers.
Fitted with the same, smart magnetic mounting device as the Cabasse iO2, the Alcyone satellite is very easy to position either on a shelf, on wall or on its optional stand. The wide-bandwidth 4" drive unit of the Alcyone satellite has been especially designed by Cabasse engineers to provide high efficiency and smooth, balanced response when utilized in its compact spherical enclosure.
Named after the daughter of eOle (Aeolus), the Greek god of wind, Alcyone has been designed to carry on the typical qualities from a Cabasse system: high efficiency, power handling, transparency, good imaging and soundstage.
Key Cabasse Alcyone Features:
Flexible - magnetic mounting device allows for easy placement on a shelf, wall mounting or secure use on its optional stand. Alcyone is also magnetically shielded.
Innovative - spherical enclosure provides rigid, compact form factor while preventing internal standing waves
High Performance - spherical enclosure offers a perfect 60 degree arc of dispersion with zero phase error for rock-solid imaging.
Innovative - proprietary materials used in custom designed drive units for optimum performance  
Stylish - Available in Black or White with (optional) matching stands
Cabasse speakers are available now from StJohn Group.

For more information, please visit
www.cabasse.com