Artcoustic Diablo Sub Panel
Artcoustic Diablo Sub Panel
Filed under: Loudspeakers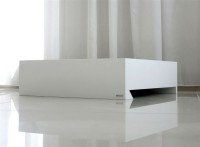 Artcoustic Diablo Sub Panel
Artcoustic launched their rather unique Diablo Sub Panel, designed to complement to the company's innovative Diablo loudspeakers as well as the entire Artcoustic range. Featuring a design-first form factor, the Diablo Sub Panel ($1800 MSRP) can be used as a freestanding, hidden or wall-mounted subwoofer. It's a bit odd, but the idea is that a low-extension device can also be hidden away - and they show off several ways of doing this.

Measuring only 5.75" high and  20" wide and deep, the slim-line design of the Diablo Sub Panel can be easily sited in a variety of locations around the listening room. In addition to conventional use on the floor, the Artcoustic subwoofer can be installed in a cabinet, mounted on a wall or located behind a scrim for a completely invisible application. It weighs a mere 31 lbs and is available in Black, Silver, or White for progressive installers and design-conscious consumers.   

Typically, this means that performance is sacrificed, however the folks at Artcoustic claim this isn't the case. Under the hood of the Diablo's sealed cabinet are two (2) 10" woofers that deliver usable low frequency response down to 20 Hz and extend up to 120 Hz. Driving the Sub Panel, and supplied as an integral part of the system, is Artcoustic's separate PA-300 professional amplifier which delivers a robust 300 watts. The amp is also rack mountable when used with the company's optional PA-19 rack ear kit. A single cable connects the Diablo Sub Panel with the PA-300 so the sub can be located where desired so it is not required to be near an AC outlet.

Artcoustic seems to have found a niche and filled it. Up until now, home loudspeakers could have been categorized into one of two camps. The first is easily recognized: Big obtrusive boxes that by definition can never blend gracefully into a room's décor. Typically these loudspeakers get tucked away in poor listening positions in an effort to make them disappear. The second camp revolves around the ambitious goal of making the speaker totally disappear – typified by the ubiquitous "in-wall" speaker design. This approach suffers from a number of limitations, including performance, location sensitivity, and time-consuming installation.

Artcoustic loudspeakers are designed to be a perfect match for plasma and other flat-panel TVs, as well as for use behind acoustically transparent projection video screens. Clearly they are form over function, though performance doesn't seem to be lacking in the specs given for this particular product. A review might not be a bad idea to put some meat to that claim.

Key Artcoustic Diablo Sub Panel Features:

Versatile- can be used as a floor-standing, free-standing subwoofer. Can also be wall-mounted or hidden in a cabinet or behind a scrim.
Stylish-  design-first form factor and styling to complement modern interiors
High Performance- twin 10" woofers extend to 20 Hz
Complete- comes supplied with Artcoustic PA-300 professional amplifier 
The Diablo Sub Panel is available now from StJohn Group. For more information, please visit http://www.artcoustic.com.