Artcoustic Debuts Diablo Tech +1 Subwoofer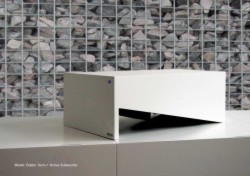 November 2004 - Mission Viejo, CA - Artcoustic, the Danish high performance on-wall loudspeaker company has introduced the Diablo Tech+1 Subwoofer - the smallest and only powered floor standing subwoofer in the product line. Comparable in size to a large shoe box, the Diablo Tech +1 is in keeping with the company's "décor- first" design philosophy. StJohn Group of Mission Viejo, CA, is the exclusive distributor for Artcoustic products in North America and the Caribbean.
Says StJohn Group sales director, John Caldwell, "The low frequency speaker, digital amplifier and electronics package are integrated into a single cabinet so small that it can be slid under or behind a couch or chair, easily blending into any interior. It keeps Artcoustic, a product line known for 'home decor friendly design,' in a leadership position with thin, well-crafted audio products."
The Tech+1 replaces the two-piece Diablo Active Subwoofer. It is available in white, silver or black finish, and custom colors are available. Manufacturer's suggested retail pricing is $1,800.
Applications
The Diablo Tech+1 subwoofer is ideal for 2-channel near field studio monitoring, home audio or cinema for small to medium sized rooms, and commercial applications such as restaurants, bars, boardrooms, etc. It features a maximum sound pressure level of 105 dB at 1 meter. Multiple units may be daisy-chained for large room applications.
This subwoofer's size belies its performance. The Diablo Tech+1 is designed using a specially engineered 10 inch bass unit, which produces a low frequency performance equivalent to a box four times in size.
Features
10 inch low frequency driver unit
200 Watt into 4 ohm amplifier module
Unique anti-clipping circuit
Subsonic filter 28 Hz - 3dB
40 Hz to 120 Hz continuously adjustable low pass 12dB electronic crossover
Auto power on / off switch activated by input signal.
Specifications
Frequency response: 20 - 120Hz
RMS Continuous Output 200 Watts into 4 ohms
S/N ratio @ rated power: 95 dB
Crossover: 40Hz - 120 Hz, 12db octave
Input sensitivity @ 32 Hz Sub-in: 220 mV
Input impedance Sub In: 47 K ohms
Auto on sensitivity: 3 mV/ 40Hz
Time for auto off: 5 - 7 min
Dimensions: 19.7 W x 7.1 H x 11.8 D (in); 500 W X 180 H X 300 D (mm)
About Artcoustic
The Diablo Tech+1 is the product of a company that is recognized worldwide for high-performance and aesthetic beauty. The majority of speakers in the Artcoustic product line are THIN - as slim as 2.5 inches - and hang on the wall like picture frames. Their removable front screens are covered in a choice of elegant fabrics, or can be printed with company-supplied or user-owned artwork or photography. Their wood frames come in white, silver or black, or can be finished to suit. Like any quality furnishing, Artcoustic loudspeakers can be customized to complement or even define the look of a space.
StJohn Group sales director, John Caldwell: "In just two years, ARTCOUSTIC has become one of the hottest speaker products in the US. They are used in fine home theaters and listening rooms, as well as in commercial spaces such as restaurants and art galleries. They are sold by hi-fi dealers and specified by designers and architects. They have effectively erased the distinction between a loudspeaker and furnishing, yet remain true to their intended purpose: superb reproduction of sound."