2006 EHX Show Report
Filed under: Editorials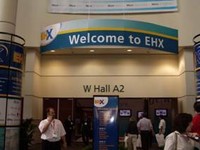 Orlando Florida - Orange County Convention Center
The EHX Expo 2006 show only comprised a tiny fraction of available floor space in Orlando's enormous Orange County Convention Center facility, and was nestled in a corner wing on the far side of the building, which hundreds of manufactures called home for three days. This year's show was even BIGGER than last year's. As usual, the primary focus of this show was more for the custom installer market than the consumer. In addition to displaying the latest trick home automation, and custom integration products, this year's show emphasis seemed to be on education and training. A variety of companies such as Intel, Belden, Data Color, Sencore and even Harman hosted training and tech seminars to help professional installers be better equipped and more importantly, informed, on the latest tools and research to aid in building better home theater systems for their clients.
EHX exposed us to many companies which may not be quite as familiar to common audio enthusiasts (something we're striving to change.) The focus leaned more towards products related to home automation, custom controls and remotes for entire home operation of theater systems, panels, alarms, bulk cable, network storage systems, theater seating and comfort chairs, component racks, and a great deal more. Most of the popular companies were showing products which we have already seen at Vegas' Consumer Electronics Show, so we didn't double cover those.
Loudspeakers
Jamo

Jamo put forth an impressive display of in-wall and in-ceiling products. All of their in-wall / in-ceiling products seem to have one thing in common: high power handling and no-nonsense build quality. Ok, so that's two things but who's complaining?
They have a very diverse product line including their two-way coaxial designs, their three-way systems with rotating mid/tweeter arrays, and the multi-driver surround array of their SU631K4 (not the most intuitive model #'s)

We weren't sure what model# this was, but we found it very interesting to say the least. It is sure to double up as an excellent cereal bowl should you forget to do the dishes upon waking for breakfast in the morning.
For more information, visit: http://www.jamospeakers.com/
Snell
Snell showed off their AMC 830 in-wall speaker system which according to them is a replica of their LCR7 box speaker. They were designed by legendary loudspeaker engineer Dr. Joe D'Appolito who needs no introduction as his list of accomplishments and recognition in the field are well known.
The AMC 830 come equipped with a fully-integrated aluminum back box and have a reported bass extension down to 70Hz thanks to their dual 5.25" woofers. Retail is $1,100/ea.
For more information, visit: http://www.snellacoustics.com/
Sunfire
Sunfire displayed a new line of high power, affordable subwoofers starting with their D-8 ($649) which boasts 1000 watts of power, 8-inch high excursion driver, 102dB SPL and 22Hz extension in a 9.75" cubic footprint. Their D-10 ($799) boasts 105dB SPL with 20Hz bass extension with a 10" driver in an 11.5" cubic footprint while the D-12 ($899) sports 108dB SPL, 18Hz bass extension with a 12" driver in a 13.5" cubic footprint.

It was cool to meet the man whose name is so widely known in the industry. From his days at Carver Electronics to Sunfire, Bob Carver has had his hands in virtually every type of home theater product. He is big on offering consumers lots of power (All Channels Driven style) not because they necessarily need it, but because they think they do. Who is to argue with consumer demand? We respect that Bob handsomely delivers it time and again so well.
For more information, visit: http://www.sunfire.com/
James Loudspeakers
James Loudspeakers paired up with Halcro Electronics and Vidikron to put on what we felt to be the most impressive demo of the show. The video quality of the Vidikron projector in 2.35 aspect ratio was impressive - and most importantly, perhaps, the audio quality of the set up was very good. Though it was a bit on the bright side, vocals weren't sibilant. I think the demo was a bit too loud for comfort and the room of course wasn't very acoustically balanced. Nonetheless, the sound was clear, dynamic and enveloping, much more so than the JBL demo that was in the adjacent demo room.
The speakers in this setup included their Grand Concerto bi-ampable 3-way towers, the 85-SDX center channel and the 82-OW two-way direct radiating surround speakers. The bass was handled by a pair of their Cinema 15 subwoofers which had no problems shaking the hanger sized theater room they were demoing in. Their in-wall speakers feature metal back boxes and adjustable crossover settings for more flexible integration into the room.
For more information, visit: http://www.jamesloudspeaker.com/
JBL

JBL is household name when it comes to audio. Their brand recognition is perhaps only second to Bose in this genre. They put on quite an impressive demo at EHX this year with their new Synthesis loudspeaker system. The Synthesis Array consists of the SAM 3VA and SAM 3HA vertical and horizontal speaker systems. The electronics were also JBL with their new Synthesis SDP-5 processor, SDEC2005A digital equalizer and the S7150 7-channel power amplifier.
The demo consisted of an Oriental kung fu action flick which made Gigli (starring Jennifer Lopez) look like a 5-star movie. Nonetheless, the movie had some cool effects and stunts and was chop full of great surround sound action scenes. Overall the system sounded good, with plenty of dynamics, good panning and enveloping, but bass was the real weak point. Since this was my first demo in the EHX rooms, I initially wrote it off as a bad room. That was until I heard the James Loudspeaker demo is an almost identical room that literally knocked my socks off. I was disappointed, especially since Harman invests so much effort in education (headed by the venerable Dr. Toole) on proper subwoofer/room integration, acoustics and loudspeaker design. The bass was boomy and lacked any real punch or depth no matter what location I listened from. I would still, however, maintain it was more a setup issue, or perhaps not enough subwoofers in the size room it was in. Regardless, I feel better care could have been taken to setup in effort to present the true capabilities of their new speaker system.
The JBL S4S (pictured left) is a dual 10" in-wall subwoofer with integrated enclosure and meant to be installed during the framing stages of a new home construction. Its 3dB point is claimed to be 24Hz and has a sensitivity of 88dB 2.83V / meter with 4-ohm nominal rating or 85dB at 1 watt.
The S4Ai (pictured above right) is a multipolar flush mount THX surround speaker. Initially I though this was the most unusual and elongated loudspeaker design until the JBL rep pointed out the speaker to the right of the S4Ai is a different model and not an extension of the S4Ai. The S4Ai has a 6-ohm nominal impedance, 90dB sensitivity and 200 watt power handling capability. The mid/tweeter array can be mounted vertically or horizontally (as pictured) depending on the particular installer's needs and is also equipped with a phase switch.
For more information, visit: http://www.jbl.com
Radiient

It seems a new direct-to-consumer speaker company pops up out of the woodworks almost every week. Radiient is the new kid on the block, but they do seem to be taking all of the right steps in doing it correctly such as listening to customer and reviewer feedback to improve their products, and aligning themselves with professional organizations such as EHX, CEDIA, etc.
On display was their shockingly shoestring budget speaker system which had the appearance of a megabuck system but the suggested retail price of good pair of shoes.
The Radiient Europa is a two-way design featuring a coaxial mid woofer and separate metallized tweeter mounted on top of the cabinet popularized by the likes of the B & W Nautilus series. It boasts a power handling of 100 watts, and frequency response of 50Hz to 35kHz. Sensitivity is surprisingly moderately low at 86dB 1 watt/meter and system impedance is rated at 8-ohms.
Dimensions: 14" x 8.75" x 12.5", weight: 17lbs /ea: Retail: $199/pair
The center channel is a two-way design with 60Hz to 20kHz extension, 8-ohm impedance and higher power handling (120watts) and sensitivity of 90dB 1 watt/meter. The surround speakers are similar to the front channels but without the metallized tweeter on top of the cabinet and a higher sensitivity (90dB) and power handling capability 150watts.
Radiient sells the stereo pair, a center channel rear channel combo, or a whole five speaker system which they refer to as Elara for $499. Throw in a quality cost affordable subwoofer from like the STF-1 from HSU and you've got a department store cube killer for well under $1k.
For more information, visit: http://www.radiient.com
RBH Sound

Daren Egan (left) and myself beside a scaled down CinemaSITE system. What a cool concept and a likely hit for Mini-Me. Hey, maybe this could go in my bathroom…
Stereostone

Whether you have no place for box style speakers outdoors or simply cannot sell off the idea to your significant other, Stereostone may be the perfect solution. Why not buy her a nice flower pot or decorative rocks to dress up the front yard landscaping or backyard pool area? After he/she approves of its decorative value, pop in some music and watch the

look of amazement on their face. 
Of course, these speakers don't come cheap and will likely cause sticker shock to those with stricter budget constraints. Upon listening to them and examining their build quality, I figured a pair of rock speakers would be around $200 - $300 but to my surprise they were in excess of $700/pair! It's a bit too rich for my blood, but a cool product that may fit the bill for those wanting to hide the sound in their landscaping.
Oddly enough I asked the owner of the company if they sell online and he became very defensive as if Internet retailing was an evil thing. I later visited their website only to find they have a network of approved online e-tailers. Hmm.
For more information visit: http://\www.stereostone.com
Custom Products
Kinetics
Got a noisy room or neighbor? Does your room sound like a DSP mode? Kinetics can help. They are one of the leaders in sound isolation and room treatments. From custom sound treatment, specialized noise controlled doors and door seals, to structural isolation, Kinetics has got you covered. The picture to the right is a customized wall treatment solution with an illuminated sconce accent.
For more information, visit: http://www.kineticsnoise.com/








Middle Atlantic A/V Equipment Racks
Middle Atlantic is the industry leader in custom A/V equipment racks. From their swivel- to their slider-style racks, integrating and most importantly, servicing A/V equipment couldn't be easier. Their solid construction ensures they can handle the weight of all of your equipment and their UL certifications ensure safety and reliability. They even have options for additional reinforcement for earthquake proofing. Perfect for those of you living on the fault lines…
Talk about cable management! A custom installer can learn a thing or two from Middle Atlantic. The model pictured above is one of their racks that pulls out on rails. By simply installing their cable management system between the sliders and using some bread ties, you've got the neatest looking cable management system on the market - and most importantly, it's fully serviceable.
For more information, visit: http://www.middleatlantic.com/














Vision Art

Now you see it, now you don't. What a novel concept: decorative screen covers to hide those plane ugly white screens in your theater room. 

Choose from a fine selection of art and framing or have Vision Art make a design to your specification. Best of all the custom screen cover can automatically raise and close upon sensing of a video source on your display.
For more information, visit: http://www.visionartgalleries.com/


DataColor

Want to calibrate your display like the pros? DataColor can help with their SpyderTV calibration system which allows you to accurately set grayscale and color for your display. DataColor even offers a grueling two-day ISF certification course. Grueling in the sense that each class is 12+ hours long, but not so grueling that its chock full of useful information that you will find

invaluable when tweaking out all of the possible performance your display has to offer. Surprisingly, I managed to stay awake during both sessions thanks to the excellent job the folks did teaching the class - giving plenty of hands-on opportunity to use the tools to calibrate real world displays. 
For more information, visit: http://www.datacolor.com/
California Audio Technology (CAT) Loudspeakers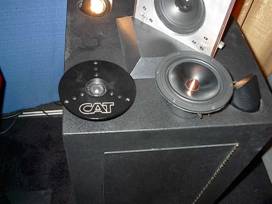 This year at EHX in Orlando I saw hardly any electronic audio gear but there were plenty of loudspeakers, lots of video equipment, and many dealer installation support booths to be seen. Out of the many speakers one of the more interesting ones was California Audio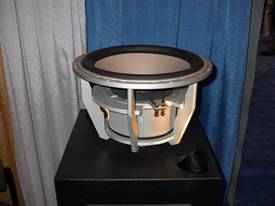 Technology (CAT). They have moved into the realm of designing their own drivers to out-perform some of the highest end drivers on the market. The woofer shown (right) probably weighed a good fifty pounds.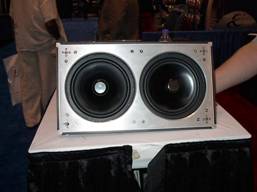 CAT designs a large amount of products from capacitors to sound diffusers.
Unfortunately, they did not have speakers set up anywhere at the show but we may take the opportunity to review them in the future. CAT has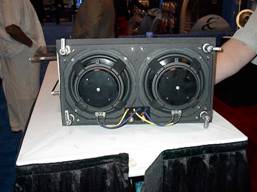 launched a sister company called Newport Audio which offers a more down to earth price range than the CAT speakers. Newport offers some interesting in-wall speakers one of which had a front loaded magnet. The Newport price range starts at $149 and goes up to $2,490.








Sim2 C3X Projector

I found the Sim2 C3X 3 chip DLP projector very interesting. They hold a patent on folding the light within the projector to make it the worlds smallest 3 chip DLP projector. I inquired about the cooling and optics of this projector but they seemed reluctant to explain much about it (ancient Chinese secret?).
They had one on demo which I attempted to see first hand, but was unable do to our conflicting demo schedule and limited time I had at the show.
Technology: 3 Chip DLP - Darkchip3
Native Resolution: 1280x720
Rated Brightness: 2500 lumens max / 2000 lumens low power
Contrast: 6500:1 (full on/off)
Zoom Lens Ratio: Choice of 2 lenses 1.5-2.0:1, or 2.0-3.0:1zoom
Lens Shift: Vertical +/-50% screen height
Lamp Life : 2000 hours maximum / 1500 low power
Weight: 24 lbs.
Warranty: 2 Years
MSRP: $19,990
For more information; visit: http://www.sim2.com
Quest Acoustical Interiors

Since I've already made some of my own acoustical panels, I really liked what I saw from Quest Acoustical Interiors. They had a track system used for various wall or ceiling treatments. The plastic tracks attached to the wall which could frame the entire wall or just a section. Next absorption, diffusion, or reflective material is placed within the track frame for the appropriate acoustical need. Finally, a fabric is tucked and stretched into the track to give a professional finished look.
For more information, visit: http://www.questai.com/
That's a Wrap
The show would not be complete without the beautiful babes at Expo. In keeping with our tradition set in 2004 of covering the most interesting events at EHX, here is a little glimpse of the Crestron area.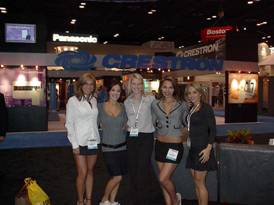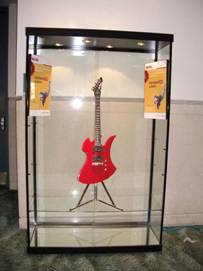 Of course the BC Rich that we observe each year at the show was on site in all of its glory.
Overall, the show was another success. We pressed palms with familiar faces, and saw some exciting new products. We are looking forward to working with some of these new companies to provide further coverage of these exciting products this year.
The show put out an impressive attendance this year which is a good sign that more and more professionals are hoping on the educational bandwagon in which the EHX show has demonstrated to have an arsenal of at its disposal.