SV Sound (SVS) PB12-Ultra/2 Subwoofer
SV Sound (SVS) PB12-Ultra/2 Subwoofer
Filed under: Loudspeakers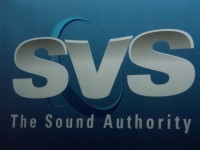 SVS displayed and demoed at CES, their most powerful subwoofer in their lineup. In a dedicated room, they did a 7.1 demo featuring their new SBS-01 speaker package comparing their normal PB12-Ultra with their flagship Ultra/2 subwoofer product using the tapping glass scene from Finding Nemo. On the Ultra, the pounding of the girls finger shook the room with aplomb. With the Ultra/2 engaged it did so even more, but you could also feel the enormous tactile response which had me convinced they were using bass shakers under the couch. When I peered down below the couch, I saw nothing so either they were using invisible bass shakers or this sub is so powerful that they weren't needed. Taking a quick glance at the Ultra/2's specifications, its easy to see why it was responsible for such incredible tactile response.
SVS PB12-Ultra/2 Specifications
· Twin TV-12 "Ultra" woofers built by TC-Sounds... SVS's best
· 1,000 watt BASH (R) amp with built-in parametric equalizer
· Flush-mount amp configuration (220v. version available)
· Computer Assisted Design (CAD) enclosure
· Down-firing configuration with distinctive SVS integrated base-plate
· Compliant floor mounts , low center of gravity
· Three 4" high-flow flared porting (in and out), two port blocks included.
· Each sub built and tested by SVS in its Ohio factory.
· Extra heavy-duty detachable 8 foot power cord
· Hand finished in four hardwood veneers, gloss or fine textured black
· Selectable 16Hz, 20Hz or 25Hz extension with included port plugs
· +/- 2 dB 18 Hz-200 Hz anechoic in 20hz mode **
· Size: Approx. 19" wide, 26.5" tall and 28" deep. Weight: 190 pounds
This refrigerator sized subwoofer has everything but the kitchen sink, though due to its enormous size, you could certainly add that in if you like. On a serious note, the Ultra/2 requires a lot of real estate, but in return will reward you with unparalleled bass extension and tactile response. This sub isn't for the faint at heart, so heed this warning when entertaining small children or the elderly.
For more information, visit SVSound.com