Sonos ZP80 ZonePlayer
Filed under: Miscellaneous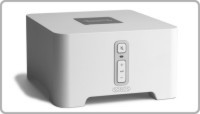 By Stanton Zeff
Introduction
Sonos has made the perfect addition to their ZonePlayer product line: a non-amplified extension module. The ZP80 provides the same wireless, multi-room functionality as the ZP100 without the added cost or size of a built-in amplifier. With both analog and digital outputs, the ZP80 easily interfaces to your existing home audio system. It can also be used as an Ethernet extension device to allow remote access to the Internet, substituting as a Wi-Fi card on a PC or laptop where only an Ethernet port is available. This is similar in functionality to Apple's AirPort Express Base Station (without the iTunes interface restriction).
Features and Specifications: Sonos ZonePlayer ZP80
Line In: Analog (RCA), auto-detecting
> Line Out: Analog (RCA), optical and coaxial digital audio outputs
> Ethernet Connection: 2-port switch, 10/100 Mbps, auto MDI/MDIX
Wireless Connectivity: Sonosnet, a secure peer-to-peer 802.11g-based wireless mesh network
Audio formats supported: MP3, WMA, AAC (MPEG4), Ogg Vorbis, Audible .AA files (format 4), Apple Lossless, and FLAC (lossless) music files as well as uncompressed WAV and AIFF. Native support for 44.1 kHz sample rates; additional support for 48 kHz, 32 kHz, 24 kHz, 16 kHz, 11 kHz, and 8 kHz sample rates. Firmware upgradeable to support future audio formats. Apple "Fairplay" and Microsoft "Plays-for-sure" DRM-encrypted or WMA Lossless formats not currently supported.
> Music Services Supported: Rhapsody 3.0+, Audible
Internet Radio: Streaming MP3, WMA
> File Storage Supported: Windows 2000, Windows XP, Mac OS X v10.3/10.4; NAS devices supporting CIFS
> System Setup Software: PC (Windows 2000, Windows XP) or Mac (OS X v10.3/10.4)
> Front Panel Buttons: Volume and Mute
Power Supply: AC 100-240V, 50-60Hz
Dimensions: 5.4" W x 5.5" H x 2.9" D (136.0 x 136.8 x 74.0 mm)
> Weight: 1.5 lbs (0.69 kg)
> Finish: Light gray, high quality PC grade
Summary
Available Spring 2006, a visit to the Sonos booth at CES indicated list pricing about $100-$200 less than the existing ZP100. In addition, there may be lower-cost bundles (similar to the existing 2 ZonePlayers and a Controller) that include a ZP80 in the mix. At less than half the size and 1/10 the weight of the ZP100, the ZP80 is a great addition to a great product line.
For more information, visit: http://www.sonos.com