Scientific Atlanta Shows off DVR with DVD Prototype
Scientific Atlanta Shows off DVR with DVD Prototype
Filed under: Miscellaneous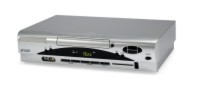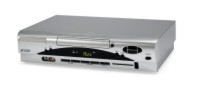 Scientific-Atlanta's DVR with built-in DVD recorder and DVD player, is three powerful devices in one - a high-powered digital set-top box, a DVR and a DVD recorder/player - with only one remote to operate. The DVD recorder/player is powered by Sonic Solutions' AuthorScript DVD engine, the same DVD creation technology used by Hollywood. The first and only networked set-top of its kind, the DVR with DVD Recorder/Player enables the creation of personal DVDs from DVR content libraries, and the ability to take recorded shows and watch them on the go.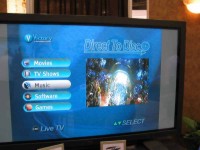 Taking an agnostic approach to copyright concerns by utilizing a binary DVD burning methodology, the Scientific Atlanta set top box will conform to whichever protection protocols the movie industry can come up with. The idea is that the user will have the option of viewing the movie (or show) for a particular price or purchase it for a higher price. The unit would then burn the DVD to your media on the spot. Take the following scenario:
You bring up the interactive menu system and call up a movie like King Kong. You have several value-added choices:
Watch the movie one-time for $3.99
Download and burn the movie directly to DVD for $14.99
Purchase the movie soundtrack and burn a CD for $9.99
Download the PC game to DVD for $19.99
As you can see, this opens up a wealth of options to the consumer and it remains in the hands of the content providers and copyright holders to arrange for a more reliable method of ensuring this type of commerce activity can take place. We're guessing that the built-in DRM associated with the Blu-ray Disc format may make this a reality sooner than later.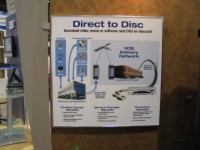 The Scientific Atlanta rep said that, depending on the allocated bandwidth from the service provider, a full two hour movie could be burned in as little as ten minutes! As mentioned above, the implications are almost limitless in their convenience. Like the movie? How about purchasing the game? The unit may also have the ability to burn games, TV shows, music, movies… anything. If the price is in line with (or hopefully a little less than) then what you could get in the store, this could be the future preferred method of procuring movies and digital entertainment. Look out Brick and Mortar! For more information, please visit www.scientificatlanta.com .