Sanus Systems Full Motion Flat Panel TV Mounts
Sanus Systems Full Motion Flat Panel TV Mounts
Filed under: Furniture & Mounts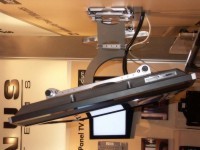 The full motion VMDD26-01 holds up to 175lbs displays and has a full motion arm that extends up to 26" from the wall. The VMAA26-01 and VMAA18-01 hold up to 130lbs and extend up to 26" and 20", respectively. The VMSA extends up to 10" and holds up to 150lbs displays. All of these mounts incorporate a universal TV interface.
Some notable features in the Full Motion Panel TV Mount Line Up
· They are constructed of heavy gauge steel and aluminum.
· They feature Virtual Axis for easy tilting with the touch of a finger tip.
· Universal TV brackets include lateral shift to allow perfect TV placement even with off center studs.
For more information, visit
http://www.sanus.com