Quad ESL-2805 & 2905 Electrostatic Speakers
Quad ESL-2805 & 2905 Electrostatic Speakers
Filed under: Loudspeakers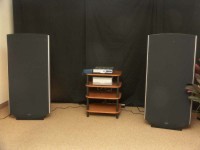 Quad introduced two new electrostatic loudspeakers at Alexis Park during the CES show - the ESL-2805 and ESL-2905. These two new ESL models represent a major structural and cosmetic overhaul of the critically acclaimed ESL-988 and ESL-989 loudspeakers.
Quad's design goals have always been detail resolution, stereo imaging, and lack of colouration. Operating in a radically different way to traditional moving-coil loudspeakers, they use an ultra-thin Mylar diaphragm suspended between two charged plates. In this contactless system, the diaphragm is driven across its entire surface area, so allowing for a considerably lighter material to be used - the low mass of which results in a much more accurate and delicate reproduction of the music signal.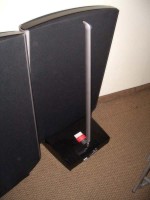 For the ESL-2805 and ESL-2905, Quad's engineers have started from scratch and re-thought through the principles on how the electrostatic panels are held together and braced. The new models build upon their predecessors' strengths with a construction centred on tensioned aluminium extrusions coupled to a stainless steel support structure. The substantial new base construction is finished with a piano black lacquered wooden trim and high-quality terminations. Perhaps the most visually striking addition to each loudspeaker is an aerofoiled
tensioning strut. This greatly reduces bending motions in the panels - and their chassis - while reproducing music. The overall effect of all these changes is a considerably stiffer, stronger loudspeaker that is able to stamp its authority upon anything thrown at it. The new design breaks new ground for Quad's full-range ESL by being appealing to the eye, with an aesthetic now on a par with the speaker's superb sonic reputation.
The smaller ESL-988 will continue to be available, along with its bigger brother the ESL-989. The new corresponding models of ESL-2805 and ESL-2905 will be rolled out across the world during January and February 2006 priced at $9,000 and $11,500 respectively.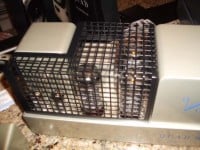 Listening Impressions
Over the years I have heard much about Quad and how they were the reference when it comes to ESL designed loudspeakers. Seeing vintage pictures of predecessor models, I often wondered how people could stomach such bulky speakers in their living rooms. I was quite amazed at the appearance of these new Quad speakers. Gone was the bulky look, which was now replaced by a modern design one would expect in loudspeakers these days.
I was very impressed by the sound of these speakers. They were very warm, fluid and easy on the ears to listen too. The bass was a bit weak, nothing a good subwoofer couldn't fix. They had it where it counts and for once I heard an ESL whose stereo image didn't disappear a few inches away from the money seat. For those ESL lovers out there, you owe it to yourself to check these out. Rekindle the legendary days of Quad in a sporty new look that will appease the eyes and the ears.
For more information, visit: http://www.quad-hifi.co.uk/