Polk Audio CSW100/SWA500 Built-in Subwoofer System
Polk Audio CSW100/SWA500 Built-in Subwoofer System
Filed under: Loudspeakers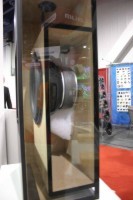 Polk Audio's CSW100 is an in-ceiling/in-floor design that can also be placed in entertainment cabinets and other furniture. The CSW100 uses a single 10-inch woofer in a bandpass style enclosure fabricated entirely of low-resonance MDF. Patented High Velocity Compression Drive bandpass alignment and a Laminar Flow slot port, combine to produce exceptional bass output unmatched by similarly sized built-in models. Measuring 26.2" L x 13" W and 9" D, the CSW100 comfortably fits in standard joist spacing and even in smaller Quiet Floor joist spacing. Bass frequencies exit the enclosure via an incredibly small 2" x 12" vent, making the CSW100 the least visually intrusive subwoofer on the market today. The CSW100 started shipping to custom installation specialist retailers in December 2005 at a MSRP of $525.
The CSW100 and other Polk built-in subwoofer models are powered by an external Class D amplifier, the SWA500. Producing 500 Watts Continuous into 4 Ohms, the SWA500 easily powers up to two woofers to rafter shaking levels. Two plug-in SPEX data cards, one for each model of subwoofer, are shipped with the amplifier. Each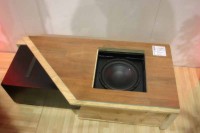 SPEX card is pre-programmed to the equalization, infrasonic filter characteristics and power output that best match the woofer being used. SPEX stands for Secure Power & Equalization with an "X" tacked on to make the name sound cool. A full array of features include: front panel Level and Variable Low-Pass Filter controls, Overload Protection circuitry, low-level and high-level Inputs, 2 sets of outputs (for daisy-chain connection to additional amplifiers), Phase Switch and Auto On/Off. The SWA500 started shipping to custom installation specialist retailers in December 2005 at a MSRP of $700.
Observing the sub in action was very interesting. While the floor didn't flex, it certainly sounded like it wanted too. The ported sub had a heater vent type grill that I had to hold my hand above to make sure it was the one being played. The non-ported design was not available to demo.
For more information, visit www.polkaudio.com .