Opera Callas Tebaldi Loudspeaker System
Opera Callas Tebaldi Loudspeaker System
Filed under: Loudspeakers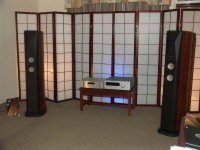 Walking around at Alexis Park with Alan Lofft (resident expert of Axiom Audio), we both heard the sound of live saxophone emanating from an open door in one of the rooms. To our surprise we saw a large elegantly crafted pair of speakers standing in place of what we were pretty convinced was a live saxophonist. The brand - Opera, the Model - Callas Tebaldi . This is an Italian design and an unusual one at that.
It's what they refer to as a Cross Link Dipole whose design goal is to recreate a precise soundstage stable and correct in proportion and in the dimensions and weight of each instrument or voice. Got that? Good. The cabinets are made in a mix of MDF and curved plywood. While the front baffle is only a tad over 6 inches wide, it's nearly 2 inches thick!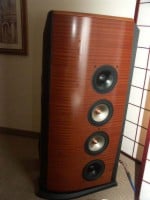 The 200lb floorstanding tower speaker contains dual 6" magnesium cone mid bass drivers from SEAS and a 1" fabric dome from Scan Speak. It also contains two 8" side firing versions of the same woofer along with an additional side firing 8" passive radiators as well as 4 1" rear firing fabric dome tweeters, hence the Dipolar design. It's a 4 ohm design (with minimum impedance of 3.2 ohms) and has a sensitivity of 90dB at 1 watt/meter with a power handling of 300 watts and recommended amplification of no less than 20 watts. Claimed frequency response is 20-30,000 Hz with no specified 3dB points. They also appear to have triwire/triamp capabilities with selectable crossover frequencies for the woofer/mid between 160Hz - 200Hz, and series/parallel crossover networks.
Make no mistake this is one big speaker standing at nearly 5 feet tall and over 2 feet deep, but because of its contoured cabinet design and narrow baffle, it doesn't look all that imposing. Elegant is the word I would use to describe it and most importantly from my short listening session I found it to sound as good as it looks!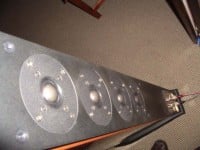 The Tebaldi has a very fluid and open sound to it. It's a non fatiguing speaker and easy to just sit back and listen too. This is one eye opening product from a company we've never heard of before, but considering its Italian heritage, I am not surprised.
Their website is slow and difficult to navigate, but from what we seen over there, they look to have a very solid product line that screams for some reviews. We have a contact to one of their distributors and will be following up sometime this year.
MSRP: $18,900/pair
For more information, visit: http://www.operaloudspeakers.com/