New Klipsch Subwoofers
Filed under: Loudspeakers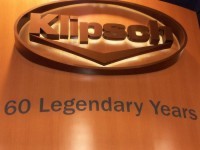 New Klipsch Subwoofers
Klipsch announced a completely new subwoofer lineup, with the model designations of RPW-10, RW-10d, RSW-10d, RT-10d and 12d
RPW-10 is an all new design representing high-performance and value. It's a single fiber-composite front-firing 10" driver in a front slot-ported enclosure. It uses a 200-watt RMS digital hybrid amplifier. Feature set is minimal using traditional volume, crossover and phase controls on the back panel. Finish is black or silver vinyl. (This replaces the current RW-8.)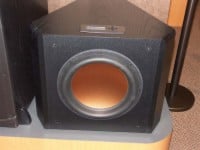 RW-10d and 12d are based on the existing RW-10 and 12. They use the same drivers and cabinets with the Corner Ports and basically the same amps. The significant change from previous models is a new control system that uses a new (as-yet-unnamed) digital user-interface consisting of a digital display and 5-button cursor control.
All functionality is done through this panel that is mounted on the front leading edge of the top panel. The digital processing includes all of the features found before and also includes three new EQ modes (Flat, Depth, Punch) and three global preset modes (Movies, Music and Night). The finish is vinyl and these replace the current RW-10 and 12.
RSW-10d is smaller version (by about 25%) of the current RSW-10. It looks almost the same but that is where similarities end. It has a new 500-watt digital hybrid amp and an all-new, in-house designed, high-excursion aluminum cone 10" woofer and passive radiator - that are said to be radically better than the current drivers. It also has the same digital controls and feature set as the RW-d models. Cherry and Black vinyl finishes will be offered. It replaces the current RSW-10.
RT-10d and 12d are radical new designs. These are triple driver subs using one front-firing active driver and dual rear-firing passive radiators. The woofer is the same platform used in the RSW-10d. The RT-10d uses 10" drivers and the RT-12d uses 12" drivers. The cabinet is a six-sided box but three of the sides are short making it look like a triangle when viewed from above. This new design allows the individual to place it neatly into a corner for less intrusion into the room and greater output by way of corner loading.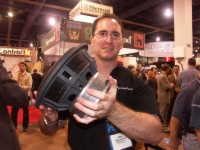 The amplifiers used are 800-watt RMS designs with dynamic capability of over 2000-watts. The all-new digital control system provides powerful digital processing on board and ARC™ technology - a patent-pending, in-house designed Adaptive Room Correction system. The new correction system will include a microphone and is said to be very accurate. The processor has five preset modes and an on-board demo capability.
The new subwoofers included a short burst of adult expletives indicating that these subwoofers were monsters that will bring the house down. Just feeling the heft of the drivers in these subs where a clear indication that they mean business. We are looking forward to evaluating them in the near future.
Pricing
RT-12d MSRP: $1999
RT-10d MSRP: $1599
RSW-10d MSRP: $1199
RW-12d MSRP: $699
RW-10d MSRP: $499
RPW-10 MSRP: $349