Moon Titan Multi Channel Power Amplifer
Moon Titan Multi Channel Power Amplifer
Filed under: Amplifiers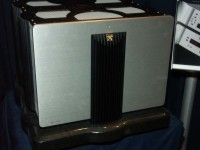 What's bigger than a microwave? Able power large speakers or kick start small trucks? And has looks and performance metrics to die for? Try the new Titan Ultra High Current Amplifier by Moon.
Available in configurations of 3, 5 and 7 channels, with the ability of producing a high-current output signal to a maximum continuous power rating of 200 watts per channel into 8 ohms and 400 watts per channel into 4 ohms, the Titan is capable of driving virtually any loudspeaker available on the market today. With two 1.1 kVA Xformers and 216,000uF of power supply capacitance I would certainly believe it. With a power supply section this large, your only limitations are: the power from the wall outlet, the capability of your speakers, your ears and sanity.
Shipping weight is between 75lbs to 150lbs and size is 18" W x 12" H x 19-27" D, depending on the number of amplifier modules.
For more information, visit: http://www.simaudio.com