Moon Super Nova CD Player
Moon Super Nova CD Player
Filed under: Miscellaneous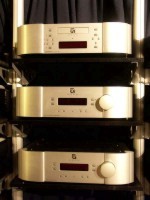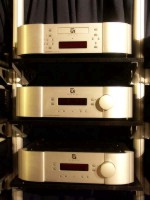 Do your components look this sexy? Possibly, but likely only if you own products from Moon.
Moon SuperNova CD Player
> At the top of the stack, we have the MOON SuperNova CD Player which is a fully-balanced differential design, representing the next generation of MOON high-performance audio components. According to Moon, the SuperNova raises the bar on the CD Red Book digital standard, producing an astonishing level of sonic performance with no equal in its price range.
They claim this achievement is the result of extensive R & D yielding new proprietary technologies, the use of the very finest electronic parts available and a powerful 24-bit/352.8kHz internal upsampling circuit. Further raising the bar, the MOON SuperNova can be fully integrated into a custom-install environment via an RS-232 port. As well, a plethora of user selectable cosmetic options are available at the time of purchase.
For more information, visit http://www.simaudio.com