McIntosh XRT2K Loudspeaker System
McIntosh XRT2K Loudspeaker System
Filed under: Loudspeakers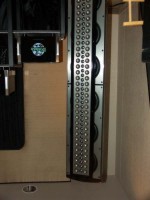 You want the most speakers you can get for your hard earned money? McIntosh's new flagship line array speaker system may be your ticket. At $40,000/ each and a total of 110 drivers per cabinet (roughly $363 per driver) this speaker would make King Kong proud.
XRT2K Loudspeaker System System Specifications
Se al ed Du al Column 3-Way
Six 12" Aluminum cone woofers (per side)
Sixty-four 2" titanium Midranges (per side)
Forty ¾" titanium tweeters (per side)
Tri-wire and tri-amp capabilities
Aluminum enclosure core
8-Ohm impedance for compatibility
usable with up to 2,000 watts of power
can be driven with as little as 75 watts
Titanium tweeters for response to 45kHz
Anechoic Response 16Hz - 45kHz
Crossover Frequencies: 250Hz and 1.5kHz
MSRP $40,000 each
Shipping now
We spent a good deal of time listening to them at the show with various source materials. My most memorable listening session involved Pink Floyd The Wall with the Track "Hey You". The Mac's made this CD sound bigger than we have ever heard it and inspired me to dust off some of my old Floyd collection.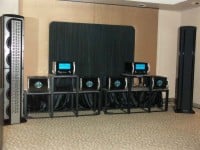 It was quite an impressive sight seeing these speakers tower over their behemoth MC2kW amplifiers 2kwatt power amplifiers and reminded me of my college days of working for high end dealer that sold McIntosh gear. This setup appeared to have enough power reserves to run a small nuclear power plant or the Chris tmas lights in Chevy Chases Chris tmas vacation.
Though these speaker didn't quite convey the intimacy or focus of say a traditionally well engineered two way system in a nearfield environment, they did maintain a very broad soundstage and endless dynamics. This was certainly a setup I was proud to witness and really helped revitalize what this company is best known for - uncompromised audio.
Here is the equipment list for everything else that was in this room:
MC2KW 2,000 Watt Monoblock Power Amplifier
Three mod ule s separating the power from the output
Two 1,000 watt power mod ule contains ½ of the b al anced circuitry complete with its own power supply resulting in double b al anced configuration
Sign al from the power mod ule s enters a double-wound, mirror image output transformer where each kilowatt of power is added canceling noise and distortion
B al anced and Unb al anced Inputs
Thru puts for Bi and tri-amping
Connections for 8, 4, and 2 ohms
3 full sets of termin al s for tri-wiring
peak responding output meter
Input sensitivity 2.5V unb al anced; 5V b al anced
Dynamic Headroom: 2dB
Frequency response: +0, -0.25dB from 20Hz to 20kHz; +0, -3.0dB from 10Hz to 100kHz
Sign al to noise ration (A-weighted): unb al anced: 90dB (123dB below rated output); B al anced: 94dB (127dB below rated output)
MSRP $30,000 each
Shipping now
C1000 Configurable Tube/Solid-Ste Controller and Preamplifier
Tri Chassis with your choice of tube, solid state or both.
Low noise MM and MC Phono inputs in both tube and solid state mod ule
Fully B al anced Circuitry
Du al Mono mirror image design
3 outputs per channel for tri-amping
Listen & record processor loops
Front panel ¼" headphone jack
Remote controllable
Peak responding output meters
Sign al to Noise Ratio: C1000P (solid state) High Level 100dB; Phono 88dB
Sign al to Noise Ratio: C1000T (tube) High Level 93dB; Phono 80dB
MSRP: C1000P: $9,000
MSRP: C1000T: $9,000
MSRP: C1000C: $8,000
MS300 300GB Music Server
Huge 300 GB Hard Drive

Integrated Web Interface Capabilities

Plays CD, CD-R, CD-R/W and MP3

Capable of Streaming Music Files Over a Home Network to Remote Locations on Ethernet Enabled Devices

MSRP: $5,100

Shipping now
MVP861 A/V Player
Plays CD, SACD, DVD, DVD-A, CD-R, CD-RW
Three 192/kHz/24 Bit D/A Converters deliver highest resolution sound these formats can deliver
Video incorporates12 Bit/108mHz DACs with progressive scan
Component, S-Video and Composite outputs
Spins CDs at 4 times regular speed and DVDs at 2 times storing data into an 8MG buffer memory al lowing multiple passes to extracting al l the data from even scratched or smudged discs
Dolby Digit al , DTS and Multi-Channel DVD-Audio and SACD decoders
Digit al Bass Management
Speaker C al ibration Adjustments
B al anced and Unb al anced an al og audio outputs
NTSC and PAL Video
RD232 Data Port
MSRP $4,100
Shipping now
MCD201 SACD/CD Player
Fixed and Variable Outputs
B al anced and Unb al anced outputs
Optic al and Coax Digit al Outputs
Data and IR input connections
Precision volume control for b al anced, unb al anced and headphone outputs
Plays CD, CD-R, CD-RW, SACD and MP3 discs with CD/SACD layer switching from stop mode with front panel button
Spins CDs at 4 times regular speed and DVDs at 2 times storing data into an 8MG buffer memory al lowing multiple passes to extracting al l the data from even scratched or smudged discs
MSRP $3,300
Shipping now
MDA1000 D/A Converter
Eight 24 bit Burr Brown digit al converters
Modifies music data stream from 16 bits to 24 bits and to a sampling rate of 768kKHz al l while still in the digit al domain
Seven digit al inputs:

3 Coaxi al inputs on RCA jacks
3 optic al inputs
1 b al anced digit al in on XLR jack

B al anced XLR outputs
Unb al anced RCA An al og Outputs
Front Panel Volume control with option al bypass function
S/N Ratio a-weighted: better than 110dB
MSRP: $8,000
Shipping now
Technics turntable model SL-1200 mkII

Denon Cartridge 301II
For more information, visit http://www.mcintoshlabs.com/default.aspx