Klipsch Reference Series IV
Klipsch Reference Series IV
Filed under: Loudspeakers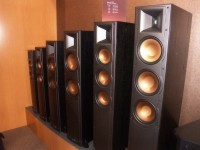 New Klipsch Reference Series IV Speakers & Subwoofers
Though these speakers have similar appearance to their predecessors, it's what's under the hood that the similarities end. They incorporated their new tractrix horn for improved high frequency response. Included is an all-new substantially increased baffle ribbing in the lower panel and around the horn throat mouth to improve acoustics and reduce enclosure resonance. The F-82, 62, B-81, 61 and C-62 implement improved tweeters that use an all-new 9 oz ceramic motor. The rest of the vinyl-finished line will receive a neodymium motor with a finned heat sink that will provide smoother high-end response, higher extension and better dynamic capabilities at higher SPL levels.
The enclosure sizes are slightly larger than previous models and provide lower frequency extension. New multi-way binding posts, outrigger feet and nicer vinyl finish including Cherry, round out the changes.
Klipsch also announced an all-new wood finish speaker line with model designations of RF-83, 63 and RC-64 center channel. The change to this new line is dramatic and include all of the above mentioned enhancements and an all new driver layout to include triple woofers, all new professional grade 1.25 inch titanium tweeters and an all new woofer design that have new motor structures for greater control, output and power handling.
A new cabinet with modernized design includes knife-edge back that looks expensive and refined compared to previous Reference lines. Furniture grade veneer and premium binding posts round out the significant changes.
To match the above lineup, Klipsch announced new WDST surrounds designated by the model number RS-62, 52 and 42 that include all of the above changes to the horn and tweeters. The RS-62 uses the new ceramic motor. The RS 52 and 42 will receive the neodymium motor.
Pricing
RF-10 MSRP: $498/pr
RF-52 MSRP: $598/pr
RF-62 MSRP: $798/pr
RF-82 MSRP: $998/pr
RF-63 MSRP: $1798/pr
RF-83 MSRP: $2498/pr