2005 Product of the Year (POY) Award Handout at CES 2006
2005 Product of the Year (POY) Award Handout at CES 2006
Filed under: Editorials
At the CES show, we managed to catch up with many of the manufacturers we awarded Product of the Year for 2005 .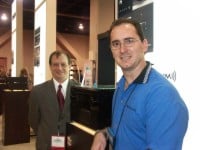 Denon AVR-5805 and DVD-5910
Denon won two awards from us in 2005. Both of them were for their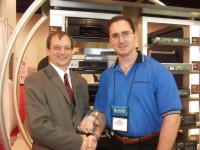 flagship products, namely their AVR-5805 receiver and DVD-5910 universal DVD player. They are truly industry leaders with such high performance, flexible products such as these.

Denon's Marketing Manager Jeff Talmadge and myself (AVR-5805 left, DVD-5910 right)
Yamaha RX-V2600 and YSP-1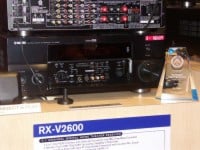 Yamaha turned a lot of heads last year, and caused many manufacturers to revamp their mid priced receiver product line with the introduction of the RX-V2600 receiver. It has features most flagship products are still lacking. The YSP-1 is a truly innovative product and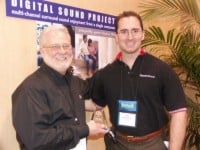 helped redefine the industry for a single source surround sound experience.
POY award with RX-V2600 (left) and Yamaha Corporate Manager Doan Hoff and Myself (right)
Axiom Audio Epic 80-600
Looking for an affordable loudspeaker system with a huge WOW factor? Look no further than the Axiom Audio Epic 80-600 system .
Pictured above are Ray Adkins, President of Axiom Audio Ian Colquhoun, and Axiom's Resident Expert Alan Lofft.
RBH Sound CinemaSITE
CinemaSITE is the ultimate answer to performance and aesthetics. Imagine having custom built furniture that not only looks great, but is highly functional in that it not only houses the screen but all of the front speakers including the subwoofers. Now that is custom and is how home theater should be.
VP/Designer Shane Rich of RBH Sound and myself at their Status Acoustics Titus demo at Alexis Park.
Da-Lite Acoustical Imager Projector Screen

with High Contrast Cinema Vision screen & JBL 5.1 speaker package
Da-Lite Acoustical Imager is one impressive package for such a small asking price. Now you can get your screen and speakers all in one shot, and most importantly have them seamlessly integrated into the screen.
Myself and Mark eting Manager of Da-Lite Matt Teevan standing in front of the Acoustical Imager.

Impact Acoustics Rapid Run Modular A/V Cables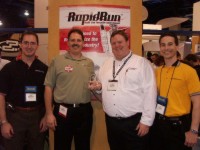 With all of the bogus marketing and snake oil surrounding cables, it's often hard to differentiate reality from fantasy. We consistently find Impact Acoustics cables to be among the best value and best kept secret in the industry satisfying all of our Cable Budget Guidelines and avoiding all of our Top 10 Snake Oil Gimmicks . Impact Acoustics RapidRun gets our cable innovation of the year award.
Myself, Business Development Manager Joe Cornwall and Product Manager Tom Sullivan of Impact Acoustics, Clint Deboer

American Power Corporation S15 Power Conditioner & SBATT Battery Backup
Just like with cables, most exotic power conditioner products are laced with snake oil and bogus marketing claims about how they will magically transform your home theater system into a state of nirvana. APC makes no such claims with any of their products, namely the S15 and SBATT . Instead, they promise uninterruptible, clean and stable power delivery to your home theater system. It's easy to see the amount of thought that went into the design of these products via our APC FAQ Interview and why we chose them to be our official sponsor for all of our primary staff reference systems .
APC Mark eting Manager Shannon Talbert, Design Engineer Michael Schenck, and myself at the APC booth in front of an S15.
Wrap Up
2005 was a most invigorating year in the world of Audioholics. We had the fortune of reviewing and testing some of the industries most innovative products and look forward to what's ahead in 2006.
For a complete list of all of the award winners for 2005, check out:
Audioholics 2005 Product of the Year Awards