Yamaha Soavo Speakers
Filed under: Loudspeakers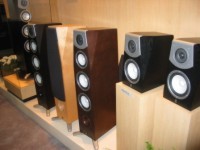 Yamaha has created a new speaker for the home environment, the Soavo series of Natural Sound Speakers. The series consists of the Soavo-1 three-way bass reflex front channel speaker, the Soavo-900C two-way bass reflex center channel speaker, and the Soavo-900M two-way bass reflex rear channel speaker, as well as the Soavo-900SW 10-inch, front-firing, 600W subwoofer.
The speakers contain 6 1/2-inch A-PMD (Advanced Polymer-injected Mica Diaphragm) woofer and midrange cones & edgewise-wound ribbon wire voice coil. All precision aluminum die-cast driver frames utilize a new design that provides a baffle connection to the diaphragm edge to prevent frequency response degradation due to reflected waves.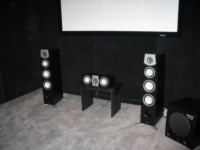 The high-performance tweeter, attached with an aluminum die-cast plate, features an aluminum dome with Yamaha's proprietary DC-Diaphragm. Extremely light and durable, it transmits highly detailed sound information for a denser sound field. The Soavo series speakers' aluminum die-cast tweeter plate, which also adds a distinctive visual design element, helps improve the transparency of high-frequency sound.
Yamaha has attempted to join form and function in a stylish cabinet that also offers maximum stiffness and resonance diffusion. The cabinet's non-parallel external surfaces, and its interior with slanted partitions, minimize diffracted and standing waves. The interior's vertical bracing and mitered-joint construction adds rigidity and reduces unwanted vibrations. The wooden port has a large diameter, thick walls and a flared shape, for smooth sound flow, low port noise and a spacious and deep bass feel. Yamaha's decades of woodworking expertise have confirmed the superior performance of birch for speaker cabinets, especially in the shading of low frequencies. The speakers are equipped with heavy-duty aluminum die cast stands, which provide the required solid contact with the floor while complementing the speakers' elegant design.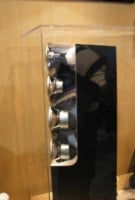 The Soavo-900SW 600W 10-inch front-firing subwoofer is designed to meet the challenge of providing the ideal balance between "tight" sounds (with crisp, fast attack) and "deep" sounds (with a spacious feeling) and accurately representing the tone interval of all kinds of sounds.
The Soavo-900SW features advanced Yamaha Active Servo Technology II (YST II) design that combines negative-impedance and constant-current principles to drive the speaker cone with extremely tight control. Combined with Advanced Negative Impedance Converter (ANIC) circuits, and a more stable and accurate low range response, higher sound pressure levels are achieved. Built into the subwoofer is a 600W digital amplifier, featuring Yamaha's exclusive Power Engine chipset, which delivers exceptionally high levels of power and sound quality, with low power consumption.
The Soavo-1 Natural Sound Speakers, offered in brown, dark brown, birch and black finishes, will be available in November (MSRP Soavo-1: $1799.95, Soavo-900M: $999.95, Soavo-900C: $999.95, Soavo-900SW: $1299.95).
Demonstration Impressions
Yamaha setup a small, but impressive theater room system featuring a full compliment of their Saovo speakers. Up front was a pair of their flagship towers the Soavo-1, the Soavo-900C center channel, four Soavo-900M bookshelf speakers for side and surround channels and the Soavo-900SW subwoofer.
They conducted demos with HD content using an DTS-HD Blu-Ray DVD demo disc. The Samsung Blu-Ray DVD player was connected via analog outputs to a Yamaha RX-Z9 in order to playback the DTS-HD multi channel sound track. Listening to Peter Gabriel's - Solsbury Hill in DTS-HD was surreal and made us long for more quality content in these higher formats. Omar Hakim - Listen Up showed off the Soavo's high end extension illustrating these weren't the typical Yamaha speakers we've been accustomed too. Impressive demo, and impressive looks, this system will be on our radar for review sometime in the near future.
For more information visit http://www.yamaha.com/home .