TiVo Series3 HD Digital Media Recorder
TiVo Series3 HD Digital Media Recorder
Filed under: Miscellaneous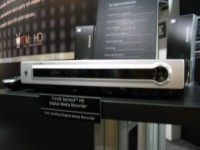 TiVo Inc. launched the high end TiVo Series3 HD Digital Media Recorder - the first stand-alone TiVo product that is HD compatible. Available beginning mid-September, the TiVo Series3 HD box is the world's first THX Certified, digital video recorder, delivering audio and video that truly maintains the fidelity of the original broadcast.
The TiVo Series3 HD box allows the consumer to experience TiVo's service features, such as Season Pass recordings and WishList searches, in sharp, vivid high-definition images. Extensive video analysis and performance testing by THX ensures content will always playback at the maximum quality and resolution. The advanced chipset in the TiVo Series3 HD box also lays the groundwork for support for more advanced download features in the future.
Dual tuners allow subscribers to record two different shows in HD at the same time, while watching a third pre-recorded show. With the high quality OLED front-panel display, the TiVo Series3 HD box will show what is recording, even when the television is off. The TiVo Series3 HD box enables the user to record up to 32 hours of HD programming, or up to 300 hours of recording capacity in standard definition. The TiVo Series3 HD box also features a new, sleek, backlit remote control.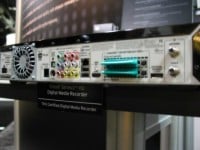 The TiVo Series3 is designed to fit seamlessly into the most discerning home theater systems. It is compatible with digital cable*, analog cable and is the first TiVo to support over-the-air digital HD (ATSC). Later this year, it will also support the newly released TiVoCast service feature which allows users to access content directly through their broadband connection, introducing the next revolution of Internet and cable delivery. Future software releases can even enable advanced MPEG-4 based download features.
With a built-in Ethernet jack and USB ports, the TiVo Series3 HD box also provides advanced connectivity and easy networking, making it simple to access an additional suite of exclusive TiVo features.
Favorite existing TiVo features included in the TiVo Series3 HD box:
TiVo Online Scheduling: Schedule last-minute recordings from the office or on the road from anywhere you can access the Internet.
WishList Searches: Easily find programs by actor, director, keyword or topic. The TiVo service works to find and record all the programs related to that topic - like an advanced search engine for your television.
Season Pass Recordings: Automatically record every episode, even if the network schedule changes. It can even skip repeat episodes.
TiVo KidZone: Coming later this year to the Series3 HD box, only TiVo gives parents the power to easily create a customized area for their children, with only the programs they've pre-approved.
Broadband connected TiVo Series3 subscribers will have access to a variety of multimedia services, networking options and entertainment choices:
TiVoCast: Download video programming via broadband to your TiVo box. Programming comes from a diverse selection of media brands and producers, including The New York Times, CNET, the NBA, iVillage, and many others. TiVoCast will be available on the Series3 HD later this year.
TiVo Online Services: View both personal photo slideshows and those shared by friends with Yahoo! Photos, and check local weather and traffic from Yahoo!. Additionally, browse and buy movie tickets from Fandango, discover new music on Live365, and listen to entertaining podcasts.
TiVo Mobile: Browse TV listings and schedule recordings directly from select Verizon Wireless phones. The downloadable program will be available later this year.
The TiVo Series3 HD box will join the existing TiVo product line, and will soon be available for $799.99 at retail stores including select Best Buy, Circuit City, Ultimate Electronics, Fry's and online at www.tivo.com .
* A security card (CableCARD) provided by your cable operator is required to view encrypted digital cable programming. Two CableCARDs may be required for dual-tuner functionality. Certain advanced and interactive digital cable services such as video-on-demand, a cable operator's enhanced programming guide, and data-enhanced television services may require the use of a separate cable company-provided set-top box.