Snell C7 Tower Loudspeaker
Snell C7 Tower Loudspeaker
Filed under: Loudspeakers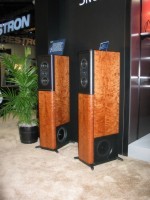 Snell Acoustics showcased its acclaimed Series 7 loudspeakers at CEDIA 2006, including the latest addition to the series, the C7 Tower. The Series 7 is Snell's first complete line created from the ground up by famed chief designer Joe D'Appolito.
The C7 Tower, which aesthetically matches all Series 7 models, is a floor standing tower configured in a 3-way design using the D'Appolito array with dual 4-inch midrange drivers above and below a 1-inch silk dome tweeter. Two 8-inch aluminum cone woofers are placed on either side of the cabinet near the bottom of the enclosure. This configuration allows the back wave of the woofers to "Force Balance" each other to produce less cabinet resonance. Furthermore, the sleek cabinet takes up minimal floor space, compared to other dual woofer designs. It is capable of tremendous output to over 110dB, and the D'Appolito MTM array offers remarkably realistic sound staging. Even without a subwoofer, the C7 is capable of deep, rich bass rated down to nearly 30Hz. The C7 sits in a casted aluminum base, stabilized by four integrated feet.
The C7's D'Appolito array provides an extraordinary soundstage and is capable of delivering a very broad and even vertical dispersion. It provides an exceptionally open, lucid, and dynamic sound with superb clarity, so that groups of listeners can enjoy the maximum from recorded music and movie soundtracks.
On the backside is Snell's trademark rear firing tweeter (defeatable). A two-position treble switch matches room acoustics and program requirements plus there are boundary and perforated screen compensation adjustments, offering unprecedented control over the variables of room acoustics and boundary interactions.
The C7 comes in two different wood finishes - natural cherry w/silver grilles and anodized aluminum accents or black painted walnut with black grilles and black anodized accents.
The C7 is provided with dual, 5-way silver-plated, solid metal binding posts and are magnetically shielded for use in proximity to video monitors. The natural cherry and black painted walnut finishes with the elegant Series 7 styling and cabinet construction are consistent throughout the line for making it easy to mix and match various models. Like all Snell speakers, the C7 is tuned to .5dB of the reference master and can be special ordered in most woods and finishes.
The C7 is currently available and carries a suggested retail price of $3,000/each.
Additional information is available at www.snellacoustics.com .